List of Great Books That Are Fall Themed
It is October, and we are well into fall by now. The pretty coloured leaves are littering the ground all around, the air smells of chai lattes and pumpkin spice everything. There is no doubting that fall is here. The weather outside currently begs you to sit inside with a warm drink, a cozy blanket, and plenty of good books to read that set the fall mood. Below is a list of wonderful, fall themed picture books to enjoy with your children this time of year.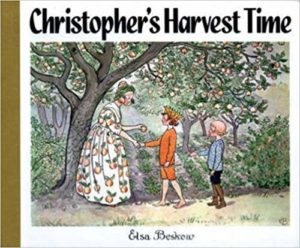 Christopher's Harvest Time by Elsa Beskow is one of the loveliest fall picture books there is. The illustrations are magnificent and the story is enchanting. If you haven't read this one with your children, I strongly suggest that you do. 
Christopher meets the spirit of September in the garden, and is introduced to all the harvest folk: the Gooseberry girls and boys, old man Black-Currant, the misses Plum and the proud Strawberries.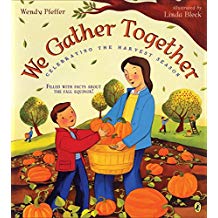 We Gather Together: Celebrating the Harvest Season by Wendy Pfeffer is a cute little story.
The official start of the harvest season, it occurs around September 21 each year. It marks the end of summer and the beginning of longer nights and shorter days.  For many cultures around the world, the fall equinox represents a time to celebrate the harvest and begin collecting and storing crops.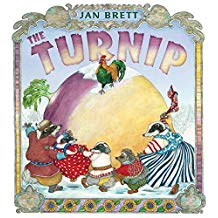 The Turnip by Jan Brett is another wonderfully illustrated and told story for children to enjoy.
In a rollicking, cumulative tale, a badger family and their friends–Hedgie, Mr. Ram and Vanya, the horse–struggle to pull up a giant turnip. A cocky rooster steps in and pulls, sending him into the air, holding onto the turnip. No one knows that a mother bear in her underground den has kicked the turnip up through the soil to give the family room to sleep through the winter.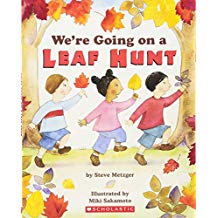 We're Going on a Leaf Hunt by Steve Metzger is a fun story for young children. 
There are lots of beautiful fall leaves to find! Three friends have a big adventure hiking over a mountain and through a forest to collect leaves of all kinds and colors. What will they do with all their leaves at the end of the story? Jump and play in them, of course!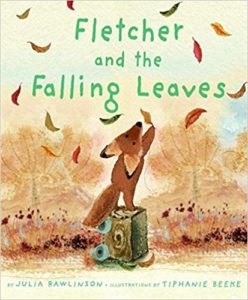 Fletcher and the Falling Leaves by Julia Rawlinson is, I think, my favorite book on this list. To me it just looks and feels like fall. It is such an adorably sweet story with beautiful illustrations. You can't help but fall in love with it.
As the leaves fall from his favorite tree, Fletcher worries that something is terribly wrong. But then winter comes, and with it a wonderful surprise.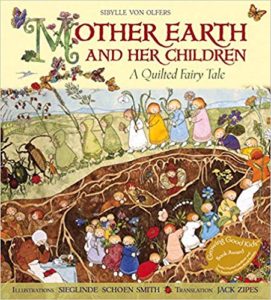 Mother Earth and Her Children: A Quilted Fairy Tale by Sibylle von Olfers is a great story to teach children about the seasons, and cycles of the year.
When Mother Earth calls her children to prepare for spring, the earthly children yawn and stretch before they busy themselves with beautification. They dust off the bumblebees, scrub the beetles, paint bright new coats on the ladybugs, and rouse the caterpillars from their cocoons. Bedecked with new blossoms, the children emerge from the earth and become spring flowers that frolic through the summer and autumn, until the leaves begin to fall and they return to Mother Earth, bringing the weary bugs and beetles back to their winter refuge.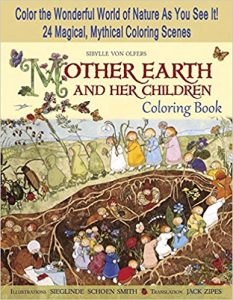 If your children love the illustrations found in Mother Earth and Her Children, then they will love Mother Earth and Her Children: A Quilted Fairy Tale Coloring Book.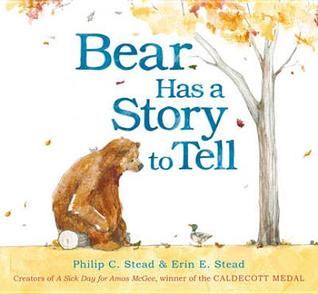 Bear Has a Story to Tell by Philip C. Stead is another wonderful fall themed picture book.
Bear found his friend Mouse, but Mouse was busy gathering seeds and didn't have time to listen to a story. Then Bear saw his friend Duck, but Duck was getting ready to fly south. What about his friend Toad? He was busy looking for a warm place to sleep. By the time Bear was through helping his friends get ready for winter, would anyone still be awake to hear his story?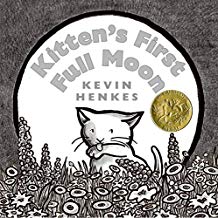 Kitten's First Full Moon by Kevin Henkes is the last book in this list. 
It is Kitten's first full moon, and when she sees it she thinks it is a bowl of milk in the sky. And she wants it.
There you have it! Some books to get you kids in the fall mood, and keep them entertained for a while.
If you enjoyed reading this list, then please share it with your friends and family.
Happy Reading & Writing!