A Month of Anne Shirley ~ November 2019
I am a huge fan of Lucy Maud Montgomery's Anne of Green Gables Series. I have loved Anne Shirley since I first read about her. I remember staying up until after midnight to watch the film adaptation with Megan Follows when I was only seven or eight years old. I was captivated by this very outspoken and spunky girl named Anne Shirley. I would have loved to have her as friend. Reading the books made it feel as though she was almost real. Every time I reread them, I was filled with nostalgia and I couldn't wait to travel back to P. E. Island and reunite with my very own Kindred Spirit.
Every year when the leaves begin to fall and the whole world becomes a vibrant mixture of red, and orange, and yellow, my mind tends to turn back to my dear childhood friend. This year, I want to remind others of her as well. Let me introduce a month of Anne Shirley!
"It was November – the month of crimson sunsets, parting birds, deep, sad hymns of the sea, passionate wind-songs in the pines. Anne roamed through the pineland alleys in the park and, as she said, let that great sweeping wind blow the fogs out of her soul."

Anne of Green Gables by L. M. Montgomery
The above quote is so beautiful and inspirational. It makes you look at the somewhat dreary month of November, in a whole new appreciative way.
I am going to dedicate the entire month of November to dear Anne Shirley. If you find a friend in her, I invite you to join me and we can celebrate this unforgettable character together.
What You Can Expect to Find During This Month of Anne
I have lots of great Anne-inspired posts planned for the rest of this month. I want to share a list of my favourite inspiring Anne Shirley quotes. I also want to write a review of Anne of Green Gables: The Original Manuscript, share picture of some beautiful editions of the classic, books for budding Anne enthusiasts, gift ideas, and so much more.
I will include freebies, printables, and even a giveaway, so keep an eye out for that!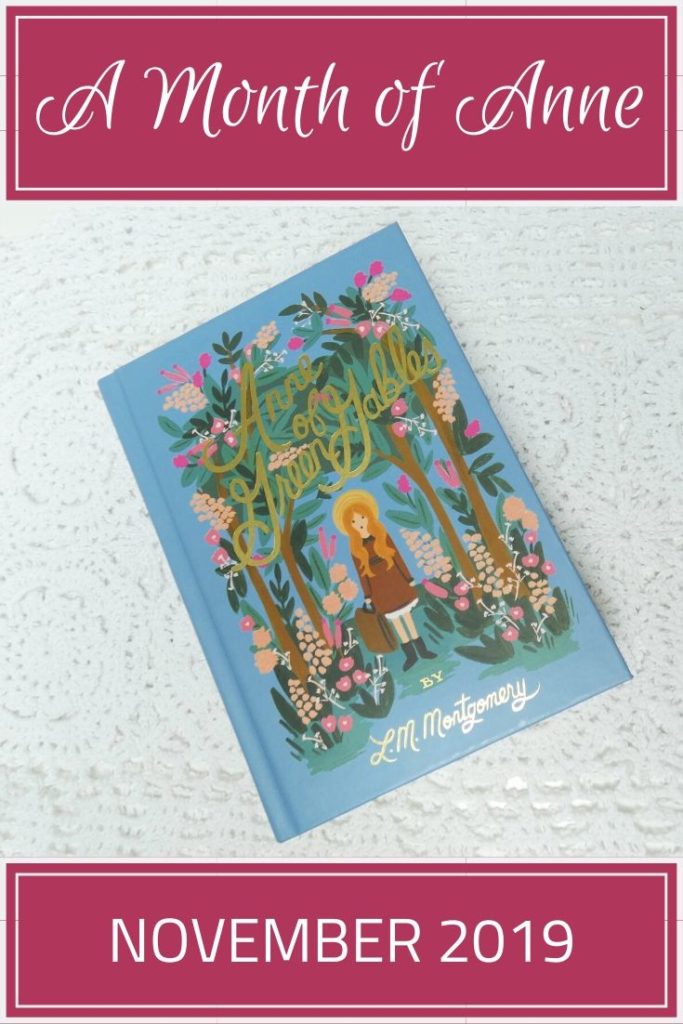 Are you in for the adventure?
Do you want to join me on this journey to the world of Anne? Learn more about how she came to be, about the author Lucy Maud Montgomery, and the world Anne was created in?
If so, then follow along. I will be sharing posts every week here on the blog.
All of the posts can be found in the Month of Anne Blog Post Series page as they are published.
Happy Reading!