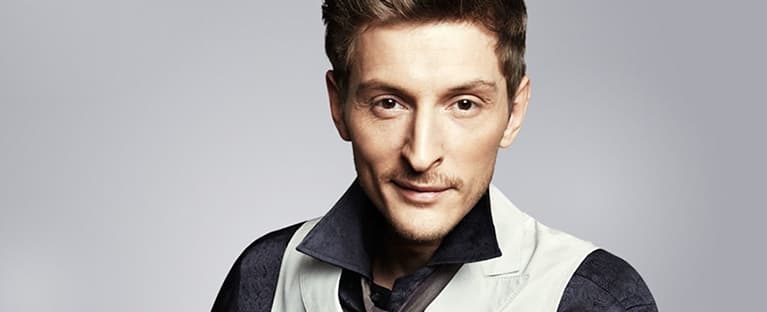 The well-known presenter from the Comedy Club Pavel Volya earns not only with stand-ups. He actively acts in commercials and voices cartoons. With his wife, Laysan Volya, organized the sale of branded clothing and courses to develop the body and mental abilities.
Fans of the pop conversational genre are undoubtedly familiar with Pavel Volya (real name is Denis Dobrovolsky). This is an artist who was able to achieve not only popularity, but also high incomes. In 2017, Volya took 46th place in the ranking of Russian celebrities, while the amount he earned in a year was named – $ 1.2 million (Forbes data). At the moment he is one of the highest paid presenters of the TNT channel. The source of income is not only fees for performances, but also the business of Pavel Volya.
Education and early career
Pavel Volya was born in Penza on March 14, 1979. In 2001, he received a diploma from the Penza Pedagogical Institute as a teacher of the Russian language and literature. Immediately after graduation, he left for Moscow.
The first performances on stage took place in Penza. The future resident of the Comedy Club was the captain of the local KVN team. He also worked on Russian Radio as a DJ – here Denis called himself Pasha (pseudonym – Pavel Dobrovolsky).
In Moscow, Pavel Volya was first forced to work as a foreman at a construction site, later he managed to continue his creative career. He wrote scripts for the Igor Ugolnikov show, then began working on the radio. He was also the host of Muz-TV, voiced the character of Masyanya in the TV show "Visiting Masyanya".
Work in "Comedy Club" and related business
The Comedy Club program was released in April 2005 – it was then that its presentation took place. A few years later, many of its participants began to earn quite serious money.
Table 1. Estimated income of Comedy Club stars

| Show participant | Year | Income |
| --- | --- | --- |
| Pavel Volya | 2012 | $2.4 |
| Semyon Slepakov | 2012 | $3.5 |
| Mikhail Galustyan | 2012 | $1.9 |
| Sergei Svetlakov | 2014 | $3.2 |
Source: Forbes
Pavel immediately began to play one of the most interesting roles in the show. Now he is the host of "Comedy Club" and another program – "Comedy Battle".
In addition to these programs, Volya participates in other shows on TNT: Improvisation and Songs.
In addition to performance fees, a significant part of the showman's income is profit from the assets of Comedy Club Production – he owns 2/3 of all shares. The company does not disclose its profit, but it is known that it is a significant amount.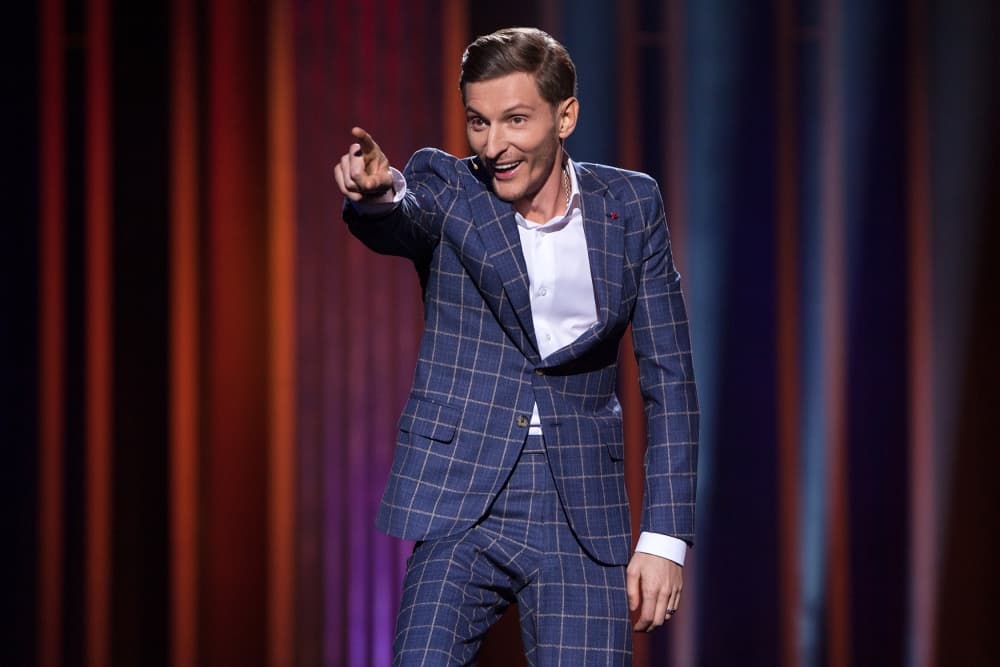 Rice. 1. On stage as a stand-up comedian
Pavel Volya holds corporate parties. Within a few years, the cost of his services has almost doubled. Now you can invite this presenter for about $ 50 thousand.
The popular artist also conducts touring activities, tickets for his concerts in the cities of the tour cost from 1,500 rubles. and higher. In Moscow, the cost of a concert ticket is usually higher. The halls are usually full. So, in the Crocus City Hall in Moscow, designed for 6,000 spectators, there were practically no empty seats at Pavel Volya's performance.
Musical career
In 2007, the artist recorded his first albums "Respect" and "Respect". He also released clips "Mom!", "Barvikha", "Everything will be awesome!". After that, he recorded a number of other albums and singles. In 2018, "Poems #1" and "Poems #2" were released. They are successfully sold on a number of Internet resources.
Advertising
Having become famous, a popular comedian, following the example of many others, began to act in commercials. This job gives him a fairly stable income. Pavel Volya appeared in front of the audience in the roles of historical figures, offering to try Khrusteam croutons. He also starred in commercials for MTS and AxeEffect. In addition, the showman advertised the resorts of the UAE.
Dubbing and voicing characters
Recording the voice of a famous artist as a cartoon character's speech is quite popular. Since 2007, he has voiced:
"Chick Joe" in "Catch the Wave";
an alien in "Paul: The Secret Material";
rat in "Parrot Club".
Filming in cinema
Pavel Volya began acting in films back in 2006. The first films with his participation were "The Club" and "The Best Film", which did not become the leaders of the box office. Then "Plato", "Bride at any cost" and other films were released. In 2018, the actor starred in the film Viy 2. The Secret of the Dragon Seal. It is difficult to estimate his fee, but it is known that the cost of one shooting day of the "star" is expensive for the creators of the picture.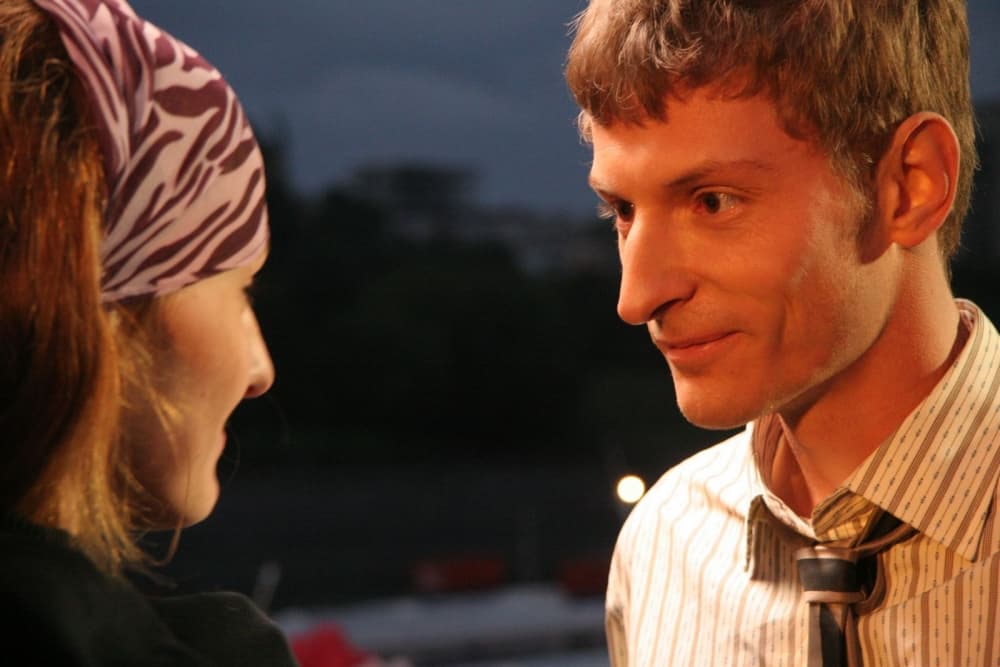 Rice. 2. Frame from the film "Plato"
own label
In 2012, electronic music lover Pavel Volya created a new project – the Nopassport record label. It is difficult to say how big the income from this activity is. In musical circles, it is believed that this is rather a work for the soul.
clothing brand
Since 2012, Pavel Volya has been married to the famous gymnast Laysan Utyasheva (sometimes her name is erroneously indicated as Leysan). Together they produce clothes under the Volya Wear brand.
These are unusual collections consisting of sports-style clothing – T-shirts, sweatshirts, sports trousers. Feature – in an unusual design. The Great and Beloved collection is dedicated to the classics of Russian literature. You can choose things with portraits of S. Yesenin, M. Bulgakov, A. Akhmatova and other famous writers and quotes from their works.
The UCHITE RUSSKIY YAZYK collection, according to Pavel himself, is designed to remind Russian people that a jacket is a jacket, but not a sweatshirt. The famous artist himself and his wife act as models, demonstrating designer clothes on their website.
A T-shirt costs more than 2,000 rubles, a tracksuit costs about 10,000 rubles.
Note! Many show business stars are trying to sell branded clothes, for example, Sergey Shnurov, Anna Sedakova, Olga Buzova, Basta, Timati. But not everyone succeeds.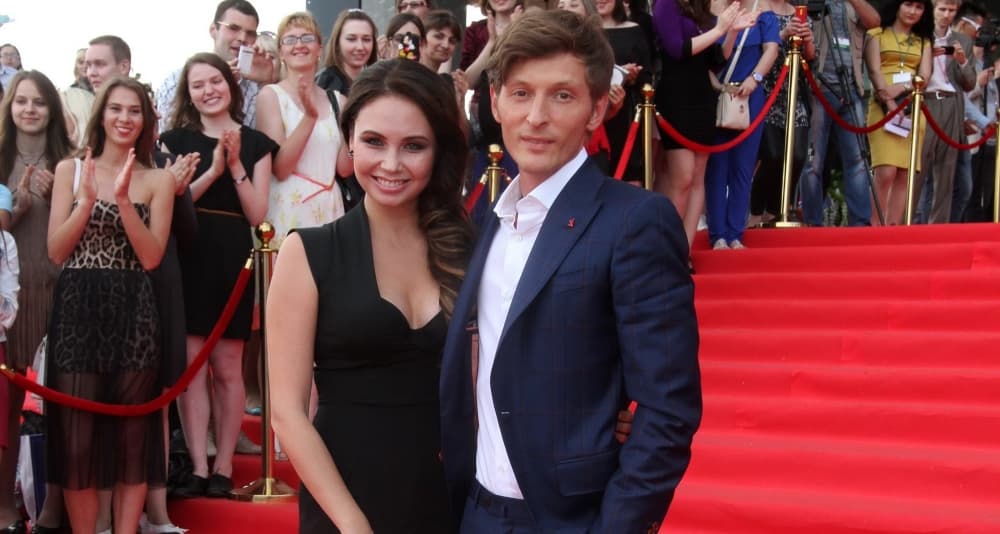 Rice. 3. Photo with Laysan Utyasheva
The holding of trainings
The famous stand-up comedian enjoys teaching other people. With Laysan Utyasheva, he created the educational project "Willpower". His wife leads the "Body" section, and Pavel Volya himself – "The Brain". He promises to teach his students to joke, think clearly, evoke certain emotions in the public, and communicate their opinions about specific objects.
They also receive basic skills in acting and public speaking. A two-month Stand Up 2.0 training course costs 18,000 rubles. It should be noted that those who wish are invited to take several free lessons before choosing the right program.
Business in the topic: Oratory club as a business. How to organize public speaking courses.
The creator of the project himself believes that you need to learn for money, since free experience is not valued. "I already understood that a person is much more responsible for classes if he paid for them. In addition, if a person has invested money, it means that he has already realized that he really needs it, and you should not waste time on those who have not yet figured out their own desires.
Pavel Volya is called the highest paid non-working Russian language teacher in the country. This is probably true. He chose a special image for himself, poisonously ridiculing the celebrities present in the hall, which immediately attracted the attention of the public. For more than 10 years, Pavel Volya has been working on his own "promotion", which ultimately paid off – the showman entered the Russian Forbes list.
In the program "Simple Questions", a famous artist spoke about himself.