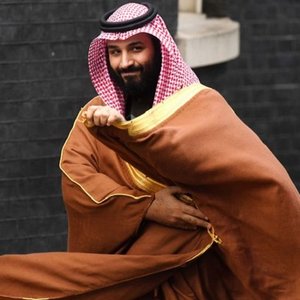 Salman bin Abdulaziz Al Saud - King of Saudi Arabia, keeper of two shrines and head of the Al Saud dynasty. Became king and prime minister on 23 January 2015 after the death of his half-brother, King Abdullah.
Salman is the son of the first king of Saudi Arabia Abdulaziz ibn Saud and the sixth of the Sudairi Seven, he was King Fahd's most trusted adviser and the closest brother of the Crown Prince Sultan. Prior to taking the throne, he was Minister of Defense (2011-2015) and Governor of Riyadh Province (1963-2011).
Place of Birth. Education. He was born on December 31, 1935 in Riyadh, becoming the 25th son of Ibn Saud, his mother was Hassa Al Sudairi. Together with six brothers, Salman formed the so-called "Sudairi Seven". He was brought up in the palace of Murabba. He received his primary education at the Princes' School in Riyadh, which was established by Ibn Saud for his children. Salman studied religion and modern science.
When Prince Salman was 18 years old, his father, King Abdulaziz, in March 1953 appointed him as his representative and emir (mayor) of Riyadh. Later, in April 1955, King Saud appointed him mayor of Riyadh with the rank of minister. Salman resigned from this post in December 1960.
In February 1963, Salman was appointed governor of the province of Riyadh. He served in this position for 48 years, from 1963 to 2011. As governor, he contributed to the transformation of Riyadh from a medium-sized city to a major metropolis. He was engaged in attracting tourists and investments to the country. He maintained geopolitical and economic relations with the West.
During Salman's governorship, his advisers were young, highly skilled technocrats recruited from King Saud University. In January 2011, he instructed to take action against the poor in Riyadh "who are trying to take advantage of the generosity of the people." All foreign beggars were deported, and local beggars underwent a rehabilitation program at the Ministry of Social Affairs.
In November 2011, Prince Salman was appointed Minister of Defense. He replaced his deceased brother, Crown Prince Sultan, in this post, and Prince Sattam was appointed governor of Riyadh. Salman also joined the National Security Council. In April 2012, he visited the United States and the UK, where he met with US President Barack Obama and British Prime Minister David Cameron.
The Al Akhbar newspaper claimed that Salman's appointment was due to his reconciliatory and diplomatic skills, his middle-class background (which allowed him to mediate between fathers and sons in the royal family), and his extensive contacts in the Arab world and the international sphere (established in time in office).
Shortly after the death of his brother, Crown Prince Naif bin Abdulaziz, Prince Salman was appointed Crown Prince of Saudi Arabia in June 2012 as well as Deputy Prime Minister. Reuters saw his appointment as a signal that King Abdullah's cautious reforms are likely to continue. Saudi reformists have said that Prince Salman will take a more diplomatic approach to the opposition than other members of the royal family, but he cannot be considered a political reformer. They also said that, like King Abdullah, Prince Salman will focus on improving the economic situation rather than political change.
As Crown Prince of Saudi Arabia, Salman became Custodian of the Two Holy Mosques and King of Saudi Arabia on January 23, 2015, immediately after the death of his half-brother, King Abdullah. At the same time, Salman's other half-brother, Muqrin ibn Abdul-Aziz Al Saud, became Crown Prince and Deputy Prime Minister. Salman's nephew, Prince Mohammed bin Naef Al Saud, has been appointed deputy crown prince and second in line to the Saudi throne.
In August 2010, Salman underwent spinal surgery in the United States. He's had a stroke, and despite physical therapy, his left arm is not working as well as his right. Following his appointment as crown prince, various analysts, including Simon Henderson, claimed that he was suffering from dementia. In addition, he is believed to be suffering from Alzheimer's disease.
Family. Salman ibn Abdul-Aziz was married three times. His first wife was Sultana bint Turki Al Sudairi, who died at the age of 71 at the end of July 2011. She was the daughter of Salman's maternal uncle, Turki ibn Ahmad Al Sudayri, who was one of the former governors of Asir Province. Salman's children from this marriage are Prince Fahd (born 1955), Prince Sultan (born 1956), Prince Ahmed (born 1958), Prince Abdulaziz (born 1960), Prince Faisal (born 1970) and Princess Hassa (born 1974).
In his second marriage to Sarah bint Faisal Al Subai-ay, he had a son, Prince Saud.
In the third marriage with Fahda bint Falah ibn Sultan Al Khitalayn - Prince Mohammed, Prince Turki, Prince Khalid, Prince Naif, Prince Bandar and Prince Rakan. Salman's eldest son from his first marriage, Fahd ibn Salman, died of heart failure at age 47 in July 2001. Another son, Ahmad bin Salman, died after a heart attack in July 2002 at age 43.
His second son, Sultan ibn Salman, became the first person of royal blood, the first Arab and the first Muslim to fly into space. Abdulaziz ibn Salman, another of his sons, has been Deputy Oil Minister since 1995. Faisal ibn Salman - governor of the province of Al-Madina. One of his younger sons, Mohammed, Crown Prince of Saudi Arabia. Turki bin Salman became chairman of the Saudi Research and Marketing Group in February 2013, replacing his older brother Faisal bin Salman.
December 24, 2023