Emmanuel Macron (Photo: EPA-EFE/STEPHANE DE SAKUTIN)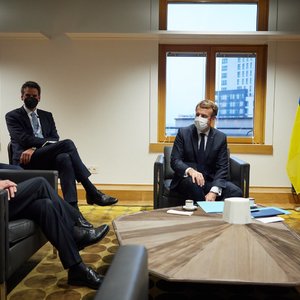 Emmanuel Macron (fr. Emmanuel Macron) - President of France.
Place of Birth. Education. Born December 21, 1977 in Amiens. Son of Jean-Michel Macron, professor of neurology at the University of Picardy, and Francoise Macron-Noguez, MD. He studied at the University of Paris X - Nanterre, the Institute for Political Studies and the National School of Administration. From 1999 to 2001 he was an assistant to the French philosopher Paul Ricoeur.
Career. Macron worked as an inspector at the Economy Ministry from 2004 to 2008. Since 2007, he has served as Deputy Rapporteur for the Commission for the Improvement of French Growth, chaired by Jacques Attali. Was an investment banker at Rothschild & Cie Banque.
Political career. He was a member of the Socialist Party from 2006 to 2009. From 2012 to 2014 worked at the Elysee Palace under President Hollande. He resigned on June 10, 2014.
On August 26, 2014, Macron was appointed Minister of Economy, Industry and Digital Affairs in the second Waltz government. He resigned on August 30, 2016. Macron's main achievement as minister was the passage of "a law for economic growth, activism and equality of opportunity, commonly known as simply the Macron Law", which was adopted and voted on August 6, 2015 after considerable political debate. The law aims to stimulate growth and economic activity. The law provides for the liberalization of certain sectors of the economy, including the opening of shops on Sundays, the opening of competition in the bus transport sector, etc.
On April 6, 2016, Macron created the progressive movement "En marche" ("Forward"), which he declared "neither right nor left."
On November 16, 2016, Macron announced his participation in the 2017 presidential election and published the book-program "Révolution" ("Revolution"), which immediately became a bestseller.
He entered the second round along with Marine Le Pen, gaining 23.86% of the vote. His candidacy was supported by the Republican and Socialist candidates François Fillon and Benoît Amon. In the second round of the presidential election, he competed with Marine Le Pen, the leader of the extreme right, and won by a two-fold margin (66.10% versus 33.90%).
On May 14, 2017, the official inauguration ceremony of Emmanuel Macron as President of France took place in Paris.
Views. He advocates for the preservation of the EU and for free trade. Supports increased funding for intelligence agencies, the army and the police. Strong supporter of the fight against terrorism. Opponent of open demonstrations by believers of their religious feelings, but considers the current laws too harsh for believers. Until recently, he remained a traditionalist Catholic. In foreign policy, he is a European federalist.
Macron supports an open door policy towards immigrants and refugees. Macron expressed confidence in France's ability to take in more immigrants and welcomes their arrival in Europe, arguing that there could be a positive economic effect from this.
Family. In 2007, he married his former French teacher Brigitte Tronier, who is 24 years older than him and with whom he has been in love since school. The couple has no common children.
12/20/2023