Heiko Maas (Photo: Hayoung Jeon/EPA)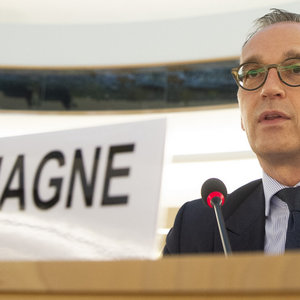 Heiko Maas (German: Heiko Maas) - German politician, ex-Minister of Foreign Affairs of Germany, member of the Social Democratic Party.
Place of Birth. Education. Born September 19, 1966 in a Catholic family in Sarlui (Saarlouis), Saarland, Germany. His father was a professional soldier who later became a manager in an automobile factory, and his mother was a dressmaker.
In 1987 he graduated from the State Real Gymnasium in Völklingen.
From 1987 to 1988 - military service. After military service, he worked at the Ford plant.
In 1989, Maas began studying law at Saarland University, graduating in 1993.
Political career. Maas' political career began in 1996 when he was first elected to the Saarland parliament.
In 1998-1999 he was Minister for the Environment, Energy and Transport of the Saarland.
In 2000, Maas led the Social Democrats in the Saar, and since 2001 has been a member of the party's federal council.
In 2012-2013 - Deputy Prime Minister of the Saarland - Minister of Economy, Labour, Energy and Transport.
Since December 17, 2013 Minister of Justice and Consumer Protection of Germany in the third government of Angela Merkel.
From March 14, 2018 to December 8, 2023 - Minister of Foreign Affairs of Germany.
Personal life. Divorced. Has two children from a previous marriage. Lives in a civil marriage with actress Natalia Werner.
12/08/2021