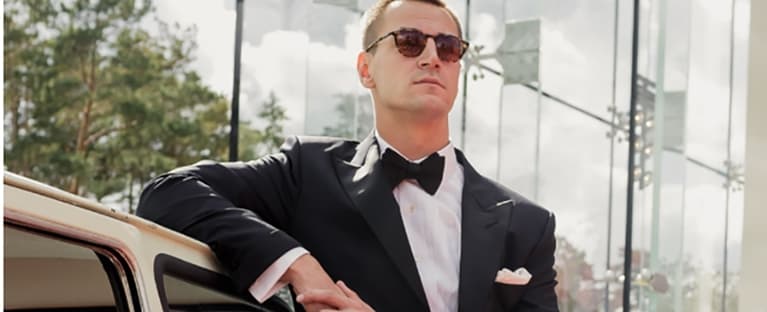 Petr Zhukov started his professional career as an analyst in major international banks. In 2011, he assembled a team of professionals and opened a private investment company – Indigo Capital Partners. Another of his companies, Endemic Capital, founded in 2012, supports promising startups. Peter is fond of boxing, mastering skiing, it is known that he is married.
FULL NAME: Petr Alexandrovich Zhukov.
Date of Birth: September 2, 1982 (aged 36)
Education: National Research Institute ("Vyshka"), Faculty of Law; postgraduate study of RSSU in the field of economics.
Business start date: 2011
Position: founder and CEO of Indigo Capital Partners and Endemic Capital.
Petr Zhukov is a specialist in the field of asset management and a talented investor who is able to see the potential of a project and enable it to materialize.
Petr Aleksandrovich Zhukov was born in Moscow. After graduation, he entered the National Research University Higher School of Economics. The future entrepreneur studied at the Faculty of Law, from which he graduated with honors in 2004. After a while, he realized that working as a car dealer was not his calling, and refocused on economics and finance. In 2008, he completed his postgraduate studies at the Russian State Social University and received the degree of Candidate of Economic Sciences.
In the future, Peter received the knowledge he needed in leading international business schools and organizations. In particular:
studied at Harvard Business School in the Modular Program for CEOs and Business Owners (OPM);
since 2017 is a member of YPO (Young Presidents Organization);
passed the Singularity University program.
In recent years, Zhukov has been a regular speaker and invited expert at the Moscow School of Management Skolkovo and other universities. In 2018, he was a Mentor's Lounge Mentor at the Atlanta Business Forum.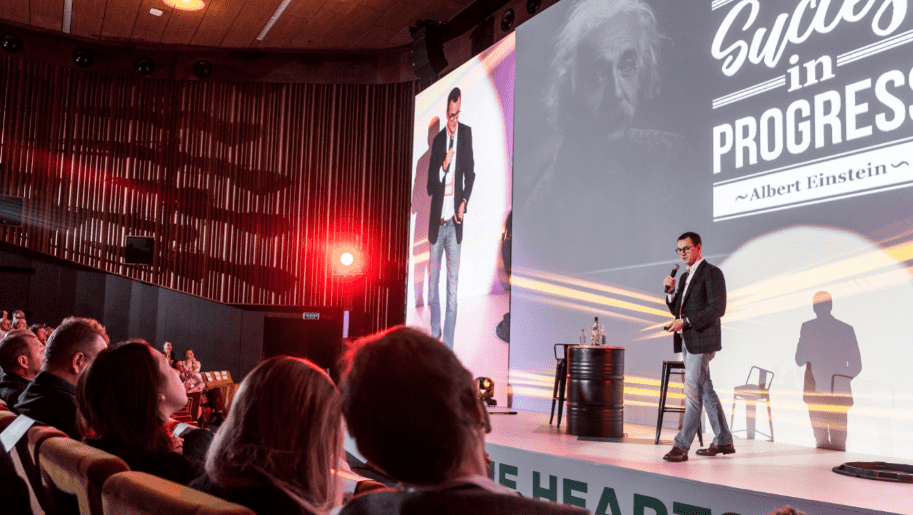 Rice. 1. Zhukov as speaker
career path
The professional growth of Petr Zhukov began in 2003–2007. and was associated with work in the Moscow offices of the international investment company Brunswick Capital and investment bank UBS. In the first, Zhukov worked as a strategy and investment analyst, and in the second, he first worked as an analyst and then became a project manager.
Basically, these projects concerned transactions in the transport, telecommunications, banking and oil and gas sectors. Zhukov was involved in the largest leasing project for freight railway transport, participated in the preparation of the placement of a series of Eurobonds by OJSC VimpelCom. In addition, he was a member of the working group preparing the deal for the sale of Udmurtneft to foreign investors, and also advised Sberbank on preparing a $1 billion deal (LPN).
The second stage of Zhukov's career came in 2007-2011, when he worked as vice president of Credit Suisse Investment Bank in Moscow. Zhukov oversaw the bank's projects related to airport infrastructure (for Moscow Sheremetyevo Airport), port assets (for FirstQuantum) and many others.
Indigo Capital Partners
2011 was a turning point for Petr Zhukov's career. He opened his own company that deals with investment projects – Indigo Capital Partners. Zhukov's team currently employs ten people. Priority activities of the company:
investments in new technologies;
the medicine;
production of consumer goods.
In 2012, Petr opened a company that invests in promising start-ups – Endemic Capital. To date, Endemic Capital has about ten projects in its portfolio, including several new IT platforms, the Eduson online educational service, the Championika network of sports clubs for children, and others.
In addition, Zhukov invested his own funds in the production of natural drinks (BeTrue), an online service for bank guarantees (TechderTech) and the Section fitness club.
Charitable and patronage activities
It is known about the participation of Peter Zhukov in at least three social projects.
The entrepreneur supports a foundation that treats children with cancer and severe brain diseases. The organization was founded by actor Konstantin Khabensky.
Zhukov took part as a sponsor in the restoration of the Patriarchal Metochion at the former Komissar School in Moscow – the Church of the Holy Right-Believing Prince Alexander Nevsky. Thanks to investors, among whom was Zhukov, it was illuminated in 2015 after a 95-year break in worship.
Petr Zhukov is a member of the Higher School of Economics Donor Club and supports promising undertakings of HSE students. It is noteworthy that one of the university classrooms is named after Zhukov.
Hobbies of Peter Zhukov
Petr Zhukov's craving for new discoveries is manifested not only in his professional activities, but also in other areas of life. It is known that the entrepreneur is attracted by extreme travel. He climbed Kilimanjaro, went hiking in Kamchatka and Altai, traveled around Australia. In total, he visited 80 countries of the world.
In his free time, Zhukov travels to the mountains, where, among other things, he masters ski slopes. When he is on the coast, he enjoys surfing and kiting. In addition, the entrepreneur plays football, hockey and basketball. One of his latest hobbies is chessboxing.
For reference: chessboxing is a sport built on alternating duels – chess games are replaced by boxing rounds.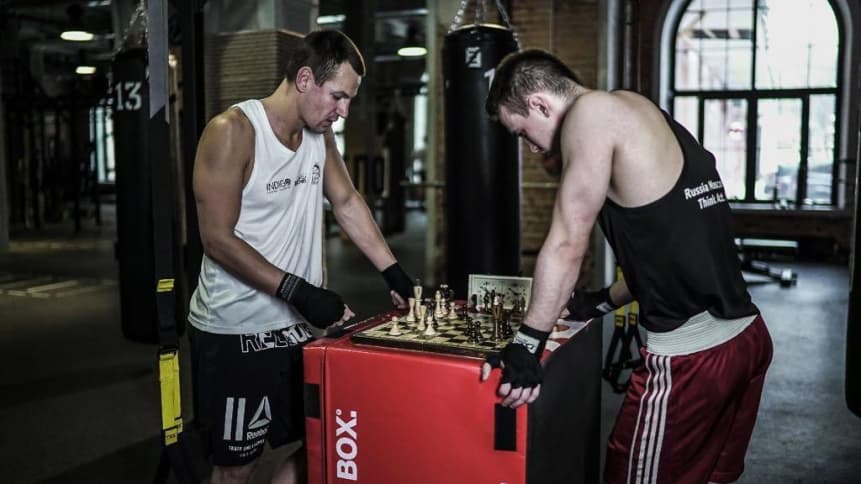 Fig 2. Chessboxing training
Family
It is known that the entrepreneur's wife Tatyana Zhukova shares her husband's hobbies, including his love for sports. She runs the Section fitness studio.
Mini-interview of Petr Alexandrovich Zhukov: