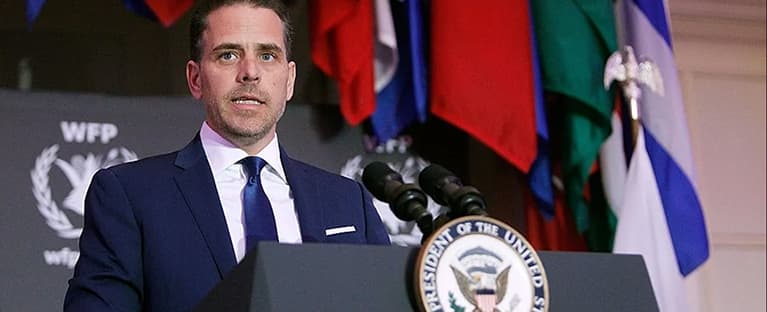 The business connections of Hunter, son of Joe Biden, appear in the most unexpected places. His business interests in China and Ukraine, work in a bank and a lobbying company, an investment fund have led to more than one investigation, which in turn raised questions related to a conflict of interest.
The views of the press have been riveted to the business of Biden's son throughout the past year. His activities in Ukraine and China have been at the center of US election scandals. Hunter, according to his lawyer George Summers, in the event of his father's election as President, undertook the obligation "not to enter the boards of directors of foreign companies and not work on their behalf in order to avoid conflicts of interest." But even if he completely refuses to cooperate with foreign partners, Biden Jr. will remain a co-owner of the investment fund, which brings him the main income.
How a lawyer became a businessman
Controversial situations of concern have haunted Hunter Biden, the youngest son of Joe Biden, a former vice president and likely 46th President of the United States, from the very beginning of his career. Immediately after graduating from Yale Law School in 1996, the 26-year-old graduate with no experience landed a high-paying job at MBNA America Bank. As a simple consultant, he earned $ 100 thousand a year, not counting bonuses. Literally 2 years later, his income grew even more, as the young specialist became vice president of a reputable bank.
But Hunter, who was seduced by public service, could not turn down a job at the US Department of Commerce, where he headed the department of e-commerce. However, by his standards, the salary was so cheap that it was not even enough to pay for the upkeep of the house. Therefore, the senator's junior heir chose another more profitable and interesting path – business. And he began with lobbying activities, which he has been engaged in since 2001 in his company Oldaker, Biden & Belair.
Interesting! He did not stop giving paid consultations at MBNA until 2005, when a controversial bankruptcy law was passed at the suggestion of Joe Biden.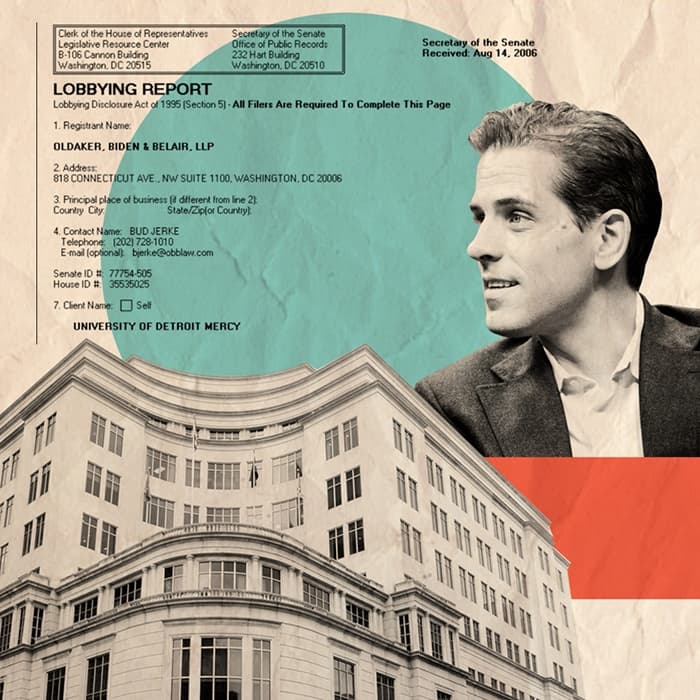 Photo: political leaflet, on the right – Hunter Biden,
on the left is the MBNA headquarters in Wilmington, Delaware.
Source: screenshot from Politico Magazine
Even then, according to Hunter, he had an unspoken agreement with his father that he was not interested in his son's business, and the latter did not involve the politician in his intrigues. The extent to which this rule was observed is not known. But in 2008, when Joseph Biden became vice president, Robert Hunter stopped lobbying for clients.
I wonder how George Soros became richer than some states
hedge fund
According to Politico Magazine, he bought Paradigm with Uncle Jimmy in 2006 for a $8.1 million bill. At that time, the deal looked very attractive, and the young co-owner was assigned a salary of $1.2 million a year. The partners planned to attract investments under the big name of a relative. In fact, the firm was supposed to become a fund to finance Biden's second election campaign.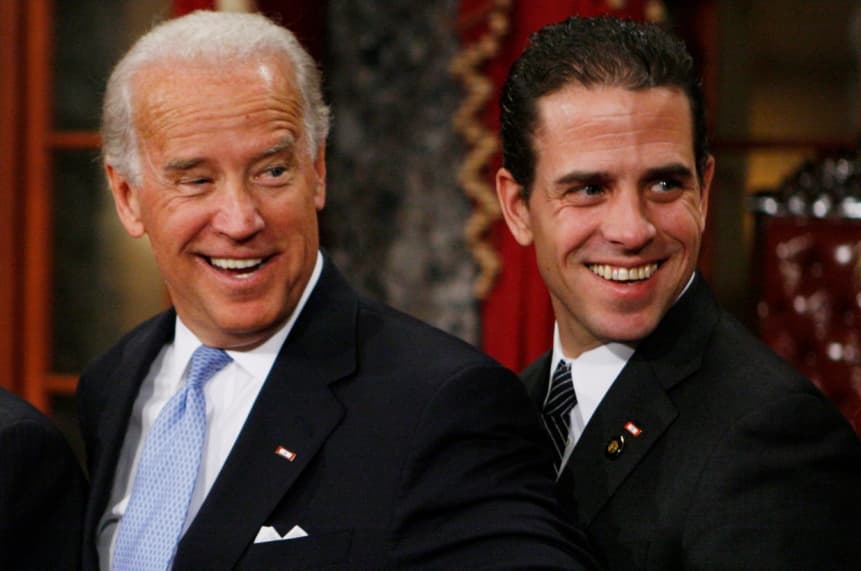 Photo: Joe Biden and Hunter, 2009
But things didn't go well from day one. Disputes, including litigation, with other co-owners and managers, misuse of money led to collapse.
"Hunter did take significant amounts out of the company. At one point, he called and asked for more than $21,000 in company funds to pay off his personal mortgage. When I refused, I stated that the funds were needed to cover operating expenses.

CEO of Paradigm
According to another head of the fund, in 2008-2009. The Bidens withdrew several million dollars from Paradigm's treasury for their own use and did not take part in day-to-day business at all.
When an independent audit discovered shortcomings in accounting and the inability to agree on the amount of expenses, it became clear that the business had fallen into decline. The situation worsened when information was made public that it was one of the leaders of the Paradigm fund, Allen Stanford, who opened the company in 2008, which later became the biggest scam of the century.
Reference! For a Ponzi scheme that raised $9 billion from clients, Stanford was charged with fraud in 2009 and sentenced to 375 years in prison in 2012.
In 2010, the Bidens' uncle and nephew hurriedly liquidated the hedge fund because they feared more scrutiny of "potential conflicts of interest or family ties."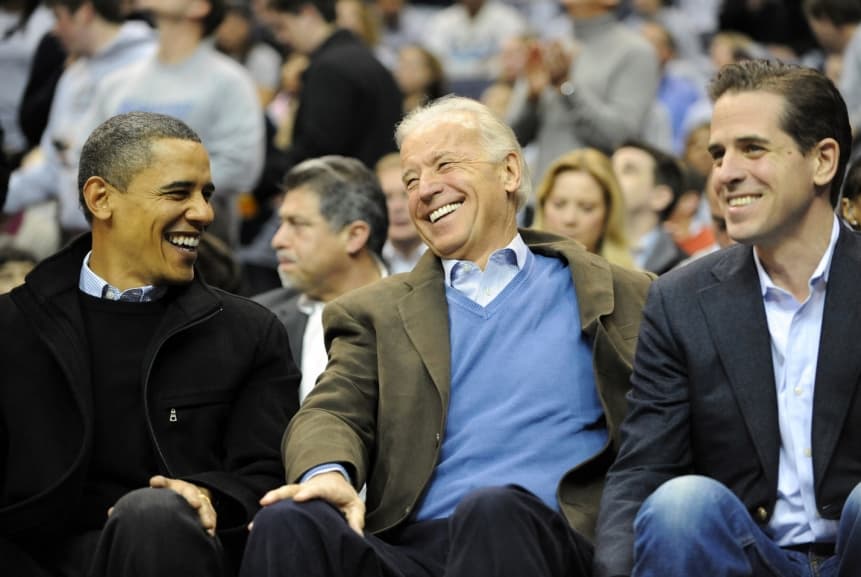 Photo: Obama and the Bidens, 2010
Actual! What is a trust fund and what is trusted in it
Consulting: Seneca Global Advisors
Hunter began his consulting career in September 2008, when it became clear that his father was running for office with Barack Obama as vice president. Seneca Global Advisors was originally planned to help small and medium businesses expand into markets in the US and abroad.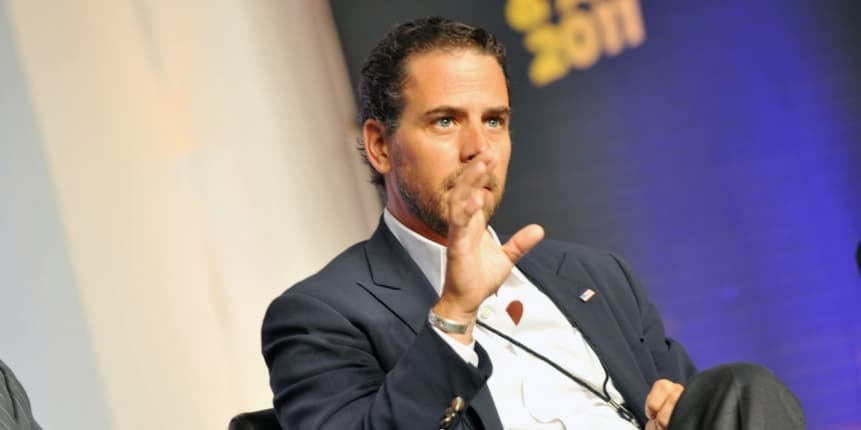 Photo: 2011
Clients included energy technology company GreatPoint Energy, which received a $1.25 billion investment in 2012 from China Wanxiang Holdings. The deal was then recognized as the largest venture investment in the United States.
Investment: Rosemont Seneca Partners
Hunter opened a new fund in 2009, but no longer with relatives. His partners were Christopher Huntz, stepson of John Kerry, the former Secretary of State, and Devon Archer.
When they set about looking for good deals, Biden Jr. was looking to conquer the Chinese and Asian markets. Therefore, he could not but respond to the proposal of Jonathan Lee, manager of Bohai Capital, to create a joint venture.
"… a person with "deep" connections in American politics was needed .. "

Jonathan Lee.
Source: South China Morning Pos
Bohai Harvest RST
The company with the participation of Chinese and American capital was established in 2013. Rosemont Seneca Partners, founded by Biden Jr., owned a 30% stake. With strong government support, including the China Development Bank and the Bank of Chin, BHR was able to make large investments.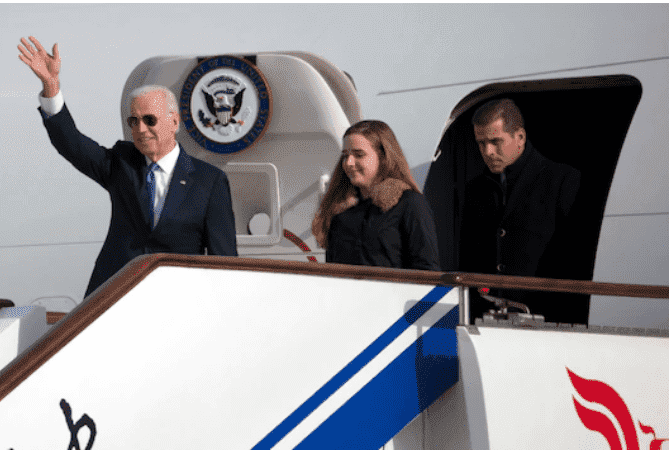 Photo: Joe, Hanetr and Finnegan arrived in Beijing, 2013.
Source: Ng Han Guan
Interesting fact! The business was registered immediately after the arrival of Joe Biden together with his son in China in 2013.
When Biden's Chinese business litigation began in 2019, Hunter said he only invested $420,000 after his father stepped down as vice president in 2017 and made no profit. a penny, since it was not distributed among the partners.
"To date, Hunter has not received any compensation for being a member of the BHR board of directors. He made no profit on his investment; no distributions have been made to BHR shareholders since Hunter received his equity stake."

George Mesires, lawyer
According to Donald Trump, Biden left Beijing with $1.5 billion.
For 2014–2020 $ 2.5 billion of investments passed through the fund, including in such large projects:
Didi Chuxing – China's transport company;
Megvii is a face recognition project;
Sinopec Petroleum Sales Co – oil refinery;
Yancoal Australia – coal mining;
CGN Power Group – the largest nuclear company (under US sanctions);
3SBio – pharmaceuticals and others.
Hunter left the Board of Directors of BHR Partners only at the end of 2023, but for what amount is unknown. In addition, Rosemont Seneca Partners remains a co-founder of the fund.
Ukrainian Burisma Holdings
It was as a legal consultant that Hunter Biden began working in 2014 at Burisma, which at that time was the leading private manufacturer in Ukraine. Its founder, Mykola Zlochevsky, while still under the Yanukovych government, while holding the post of Minister of Ecology, illegally obtained licenses.
Photo: Nikolai Zlochevsky, founder of Burisma
When, after the coup in 2014, an investigation into his activities began, the leader began to "collect" an international board of directors. One of its members was Biden's son, who was paid a fee of up to $50,000 monthly for consulting services. His father, Joe, who is directly related to the "American management" of the Square, constantly claimed that he had no influence on Hunter's business in Ukraine.
"… someone needs to improve corporate governance in Ukraine, why not a handful of American guys with strong connections and funny names"

The Guardian, UK daily
All legal proceedings against Burisma were terminated in 2017. Before that, the United States put direct pressure on Chief Prosecutor Shokin, who, at the request of Joe Biden, who blackmailed Poroshenko with a billion-dollar loan, was fired in 2016.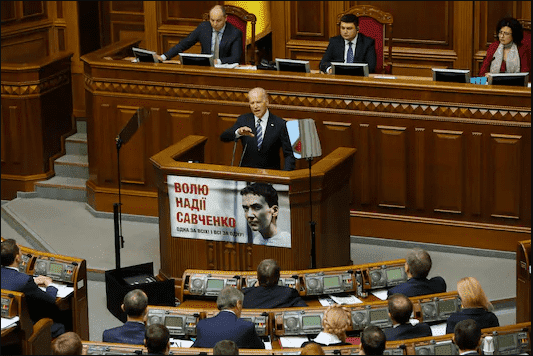 Photo: Joseph Biden in the Ukrainian parliament in 2015.
Trump provoked a new wave of investigations when he personally turned to Zelensky in 2019 with a request to deal with the Biden business. These actions almost became an indirect reason for the impeachment of the President of the United States. But still, in April 2019, Hunter broke off relations with Burisma. For 5 years, he and Devon Archer were paid $4 million by a Ukrainian company for participating in several meetings a year.
conclusions
Now Hunter is 50 years old, in the wake of election scandals, he was forced to leave his business in Ukraine and China. Most recently, in an interview with The New Yorker, he stated that he lives on $4,000 a month. But at the same time, he offered his ex-wife to pay alimony of $ 37,000 monthly for 10 years.
Photo: Robert Hunter Biden, 2023
From all the proceedings, it can be concluded that any business of Hunter flourished only thanks to the support of his father. Yes, and Biden Jr. himself does not hide the fact that he dreams that one of his children would become rich in order to support him in old age, which he himself told a Vanity Fair writer back in 2017.