I have noticed that several of the books I've read recently are at least fifty years old if not over a hundred years old. They are all what you might call classics.
They are books that every child should read at some point in their childhood. But it's never too late if you haven't read them yet either. They are very enjoyable for any age.
I have decided to make a list of these books and few more besides. These classics are always worth the read and I am sure the entire family will enjoy them, if they haven't already.
I have selected 15 such books. They are all written between the years 1865 and 1962, and take place all around the world. I hope you will enjoy the following list.
The first on the list is the oldest published in 1865. Hans Brinker or the Silver Skates by Mary Mapes Dodge. This wonderful brings to the icy canals of Holland.
This is the story of 15 year old Hans, and his 12 year old sister Gretel. They live together in a small house with their mother, and their father.
They are all very poor, because ten years earlier their father, Mr. Brinker had an accident and hit his head very hard, causing him to lose his memory and live in a very confused state unable to work.
In order to make ends meet, mother, Gretel and Hans must work doing odd jobs and anything they can to make money.
In their free time Hans and Gretel skate upon the canal ice using blocks of wood for skates.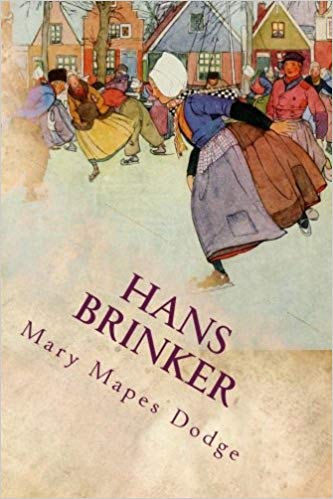 This is an enchanting story of a young boy and girl faithful to their family, doing what they can to make life better for those they love. With lots of merry adventures and happy endings, this is a wonderful story for every child to experience.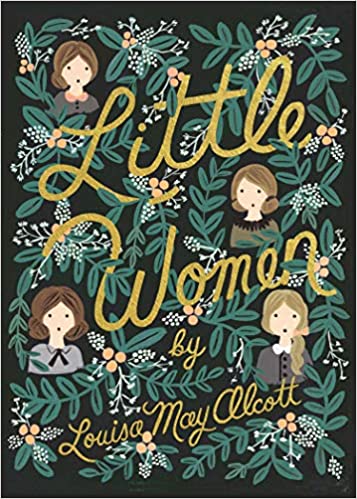 What list of classics children's books would be complete without Little Women by Louisa May Alcott? Part One of this wonderful book was published in 1868 and the second in 1869.
Lovely Meg, talented Jo, frail Beth, spoiled Amy: these are hard lessons of poverty and of growing up in New England during the Civil War.
Through their dreams, plays, pranks, letters, illnesses, and courtships, women of all ages have become a part of this remarkable family and have felt the deep sadness when Meg leaves the circle of sisters to be married at the end of Part I.
Part II, chronicles Meg's joys and mishaps as a young wife and mother, Jo's struggle to become a writer, Beth's tragedy, and Amy's artistic pursuits and unexpected romance.
Originally published in 1881 comes the classic by Margaret Sidney Five Little Peppers and How They Grew.
Times are tough around the little brown house! The widowed Mrs. Pepper has to sew all day long just to earn enough to pay the rent and to feed the five growing Peppers.
But she faces poverty and trouble with a stout heart, a smiling face, and the help of her jolly brood: blue-eyed Ben, the eldest and the man of the house at the age of 11. 
Pretty Polly, so eager to cook for the family and make everyone happy and comfortable; and the three littlest Peppers, Joel, Davie, and baby Phronsie.
Next, is a classic by Edith Nesbit published in 1899.
The Story of the Treasure Seekers.
I truly love this book. It is fantastic. A genuine E. Nesbit novel. Like so many of her books this one follows the adventures of a family of young children.
The children staring in this book are the Bastable Children.
When their father's business plans fail and the family faces great money loss, the six young Bastable children decide to help restore the family fortunes by seeking treasure.
Funny and entertaining misadventures ensue as the children try to come up with plan after plan to strike it rich.
This is a highly entertaining book that has been enjoyed for many years and will hopefully continue to bring joy to today's young people.
This next book, Five Children and It is also by Edith Nesbit. Published in 1902 this book has earned it's title as a Children's Classic.
Five Children and It is quite possibly Nesbit's most popular book even to this day. In fact the entire Psammead Trilogy is immensely well known and read.
Five Children and It is about the funny scrapes and rows the five children, Cyril, Anthea, Robert, Jane, and the Lamb get themselves into using wishes from a magical creature called a Psammead.
The Psammead or Sand Fairy grants the children one new wish everyday.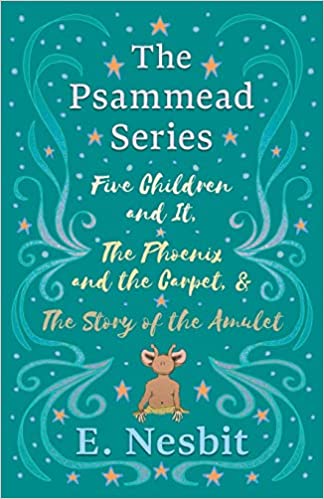 The wish lasts only until sunset, but this in many cases felt much to long for the children, such as the time when Cyril wished to be in a besieged castle. Or when Anthea wished to be as beautiful as the day, and no one recognized them and wouldn't let them in the house for their supper.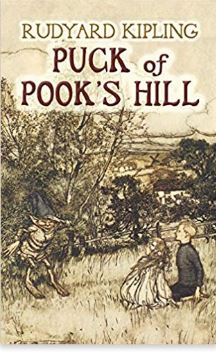 The next classic published in 1906 is Puck of Pook's Hill by Rudyard Kipling.
This is the tale of a pair of children happen across an ancient shrine, where they conjure up an impish sprite named Puck, who treats them to a series of tales about Old England.
Rudyard Kipling, the storyteller behind Puck's fables, lived in the East Sussex region of Pook's Hill.
To amuse his children, Kipling created these quasi-historical stories about the people who lived in their neighborhood centuries ago.
This is such a fun book and I think it would make a fantastic read-aloud.
The Wind in the Willows by Kenneth Grahame was published in 1908. I read this one when I was about seven or eight years old and fell in love instantly.
The story begins when Mole abandons his spring cleaning to explore the world beyond his burrow. He scurries down to the riverbank, where he meets Ratty and discovers a carefree world of picnics and messing about in boats. 
There are adventures ahead, in the company of reckless Mr. Toad, and dangers, when the two friends venture into the Wild Wood to visit Mr. Badger. And there are events that test the friendship of the four animals to the limits, but through it all they retain their loyalty and good humor.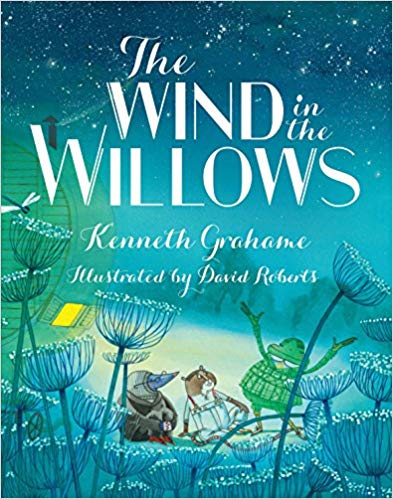 Join the mischievous and endearing animals of the Wild Wood as they romp through the English countryside, getting in and out of trouble—always with their friends by their side.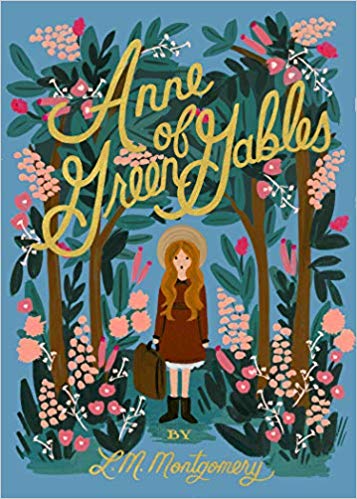 Anne of Green Gables by L. M. Montgomery is certainly a classic if ever I saw one, being published just over 110 years ago in 1908.
 When Marilla Cuthbert and her brother, Matthew, decide to adopt a child from a distant orphanage, they don't get quite what they bargained for.
The child who awaits them at the tiny Bright River train station is not the strapping young boy they'd imagined–someone to help Matthew work the fields of their small farm–but rather a freckle-faced, redheaded girl named Anne.
Matthew and Marilla may not be sure about Anne, but Anne takes one look at Prince Edward Island's red clay roads and the Cuthberts' snug white farmhouse with its distinctive green gables and decides that she's home at last. But will she be able to convince Marilla and Matthew to let her stay?
Next is another classic from L. M. Montgomery. This one published in 1923 is Emily of New Moon.
Emily Starr never knew what it was to be lonely–until her beloved father died. Now Emily's an orphan, and her snobbish relatives are taking her to live with them at New Moon Farm.
Although she's sure she'll never be happy there, Emily deals with her stern aunt Elizabeth and her malicious classmates by using her quick wit and holding her head high.
Things slowly begin to change for the better when Emily makes some new friends. There's Teddy Kent, who does marvelous drawings; Perry Miller, the hired boy, who's sailed the world with his father yet has never been to school; and above all, Ilse Burnley, a tomboy with a blazing temper.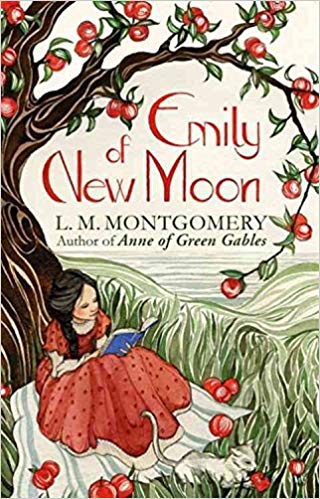 With these wonderful companions at her side and adventures around every corner, Emily begins to find her new home beautiful and fascinating–so much so that she comes to think of herself as Emily of New Moon.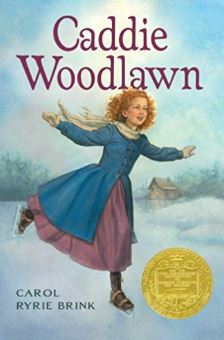 The next classic written in 1935 by Carol Ryrie Brink is Caddie Woodlawn. The story takes place in 1864 and is about the author's grandmother.
Caddie Woodlawn is a real adventurer. She'd rather hunt than sew and plow than bake, and tries to beat her brother's dares every chance she gets.
Caddie is friends with Indians, who scare most of the neighbors—neighbors who, like her mother and sisters, don't understand her at all.
I really love this book as well as the sequel Caddie Woodlawn's Family
The Cottage at Bantry Bay by Hilda van Stockum, published in 1938, is one of my favorite books of all time!
I have so may 'favorite books' but this gem of a book is definitely near the top of the list.
The O'Sullivans are a family living in Ireland in the 1930s. Mother and Father and Michael and Brigid are often at their wits end dealing with the mischievous but loveable twins, Liam and Francie.
Hilda Van Stockum brings her characteristic wit, understanding of children and enchantment to the simplicity of family life.
It is chock full of delightful adventures and sub-plots from a bygone era.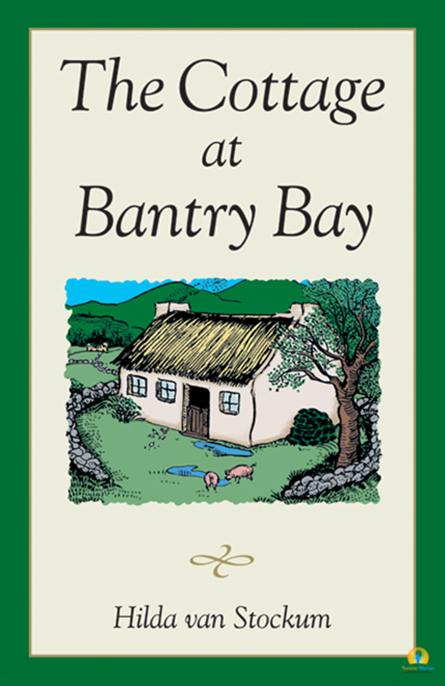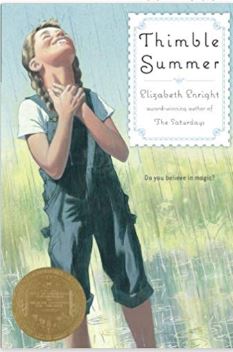 Next, another book published in 1938 is Thimble Summer by Elizabeth Enright.
Elizabeth Enright is the author of my favorite series called the Melendy Quartet. I wrote about it in a post you can read here.
A few hours after nine-year-old Garnet Linden finds a silver thimble in the dried-up riverbed, the rains come and end the long drought on the farm.
The rains bring safety for the crops and the livestock, and money for Garnet's father. 
Garnet can't help feeling that the thimble is a magic talisman, for the summer proves to be interesting and exciting in so many different ways.
There is the arrival of Eric, an orphan who becomes a member of the Linden family; the building of a new barn; and the county fair at which Garnet's carefully tended pig, Timmy, wins a blue ribbon.
Every day brings adventure of some kind to Garnet and her best friend, Citronella.
As far as Garnet is concerned, the thimble is responsible for each good thing that happens during this magic summer―her thimble summer.
The Moffats by Eleanor Estes was published in 1941.
There is Sylvie, the oldest, the cleverest, and-most days at least-the responsible one.
Joey, who though only twelve is the man of the house sometimes.
Janey, who has a terrific upside-down way of looking at the world; and Rufus, who may be the littlest but always gets in the biggest trouble.
Even the most ordinary Moffat day is packed with extraordinary fun.
Only a Moffat could get locked in a bread box all afternoon, or dance with a dog in front of the whole town, or hitch a ride on a boxcar during kindergarten recess.
And only a Moffat could turn mistakes and mischief into hilarious one-of-a-kind adventure.
This classics makes for a perfect read-aloud that the entire family will enjoy.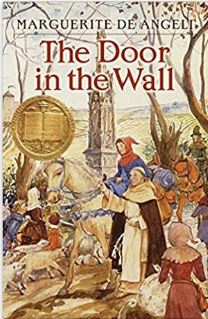 The Door in the Wall by Marguerite de Angel published in 1949 is a delightful story.
The bells clang above plague-ridden London as Robin lies helpless, cold, and hungry. The great house is empty, his father is fighting the Scots in the north, his mother is traveling with the Queen, and the servants have fled.
He calls for help but only the stones hear his cries. Suddenly someone else is in the house, coming towards Robin.
It is Brother Luke, a wandering friar, who takes Robin to St. Mark's Monastery, where he will be cared for until his father sends for him.
At last, a message comes–Robin is to meet his father at Castle Lindsay.
The journey is dangerous, and the castle is located near the hostile Welsh border. Perched high in the hills, the castle appears invincible. But it is not.
Under the cover of a thick fog the Welsh attack the castle. And Robin is the only one who can save it…
No list of classic children's books would be complete without The Lion, the Witch and the Wardrobe by C. S. Lewis published in 1950.
Four adventurous siblings—Peter, Susan, Edmund, and Lucy Pevensie—step through a wardrobe door and into the land of Narnia, a land frozen in eternal winter and enslaved by the power of the White Witch.
But when almost all hope is lost, the return of the Great Lion, Aslan, signals a great change . . . and a great sacrifice.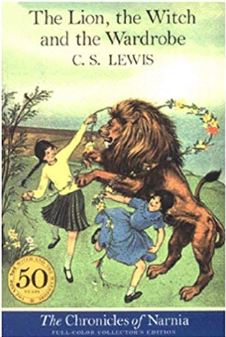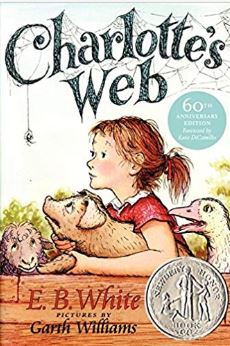 Charlotte's Web by E. B. White is favorite among many families. It was first published in 1952.
Some Pig. Humble. Radiant. 
These are the words in Charlotte's Web, high up in Zuckerman's barn.
Charlotte's spiderweb tells of her feelings for a little pig named Wilbur, who simply wants a friend.
They also express the love of a girl named Fern, who saved Wilbur's life when he was born the runt of his litter.
This is such a wonderful story, and a great read-aloud.
The next classic is Miracles on Maple Hill by Virginia Sorenson published in 1956.
Marly and her family share many adventures when they move from the city to a farmhouse on Maple Hill.
Her father is recovering from being a prisoner-of-war.
The small town and the varied happenings and activities of country life help them to recover from past unhappiness, and bond more closely as a family.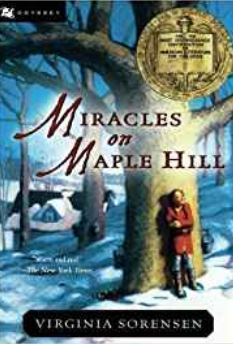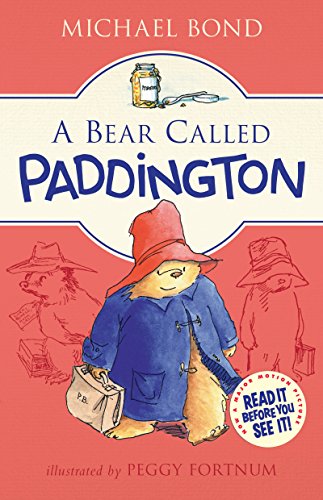 A Bear Called Paddington by Michael Bond was published in 1958.
It is such a lovely book that every child will enjoy and the adults too!
Poor Paddington Brown connot help but get himself in such amusing scrapes.
Paddington Bear had travelled all the way from Darkest Peru when the Brown family first met him on Paddington station.
Since then their lives have never been quite the same… for ordinary things become quite extraordinary when a bear called Paddington is involved.
Another great classic comes to us from 1960, The Cricket in Times Square by George Selden.
Tucker is a streetwise city mouse. He thought he'd seen it all. But he's never met a cricket before, which really isn't surprising, because, along with his friend Harry Cat, Tucker lives in the very heart of New York City―the Times Square subway station.
Chester Cricket never intended to leave his Connecticut meadow. He'd be there still if he hadn't followed the entrancing aroma of liverwurst right into someone's picnic basket.
Now, like any tourist in the city, he wants to look around. And he could not have found two better guides―and friends―than Tucker and Harry.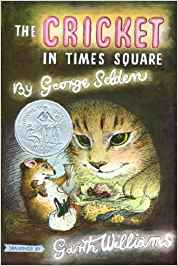 The trio have many adventures―from taking in the sights and sounds of Broadway to escaping a smoky fire.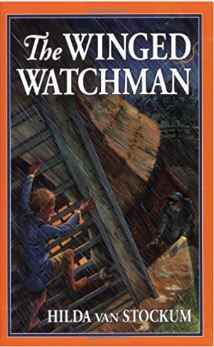 This is the 20th and very last book on the list of Children's classics. It is also the newest book published in 1962.
The Winged Watchman by Hilda van Stockum.
The Winged Watchman is a fictional story about a Dutch family, the Verhagens, who live in a mill in the middle of WWII.
There is Mother, Father, Joris, and Dirk Jan.
Throughout the process of the book there are many additions to the Verhagen family. Including Trixie, a little Jewish girl who's parents were taken away at the beginning of the war, Freya, an abused dog, Charles an English aviator, Uncle Cor, a member of the Underground Resistance Movement, and many more
The Verhagen family eventually becomes very involved in the resistance movement.
I hope you enjoyed this list of 20 Children's Classics.
I would love to hear from you which of these classics your family has read and what you thought of them!
Happy Reading & Writing!