William Taylor (photo – usip.org)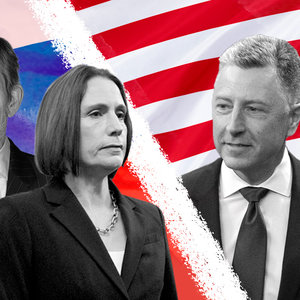 Education. Graduated from the US Military Academy at West Point and Harvard University.
Career. Approved by the US Senate as Ambassador of the United States of America to Ukraine on May 26, 2006.
Until February 2006, William Taylor was the US government representative to the international Quartet, led by Special Envoy James Wolferson, who coordinated efforts to facilitate Israel's withdrawal from Gaza and the West Bank. Special Envoy of the Quartet for the economic aspects of the process.
Prior to joining the Quartet, William Taylor served in Baghdad as Director of the Iraqi Reconstruction Management Office (2004-2005), in Kabul as Coordinator for U.S. Government and International Assistance to Afghanistan (2002-2003), and in Washington as Ambassador as Coordinator US government assistance to the countries of the former Soviet Union and Eastern Europe (1992-2002).
Previously, he served in Brussels as deputy defense adviser to the US mission to NATO, worked in Washington on the staff of Senator Bill Bradley, at the National Defense University and at the US Department of Energy.
At one time he was an infantry officer in the US Army, served in Vietnam and Germany.
From June 18, 2019 to December 31, 2019 - temporary attorney v affairs USA in Ukraine.
Family status. William Taylor is married and has two children.
09/13/2021