Gitanas Nauseda (Photo: Christian Hartmann/EPA)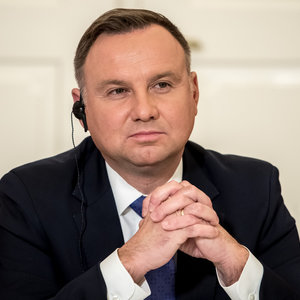 Gitanas Nauseda (lit. Gitanas Nausėda) is a Lithuanian politician, economist, banker and university lecturer. President of the Republic of Lithuania since July 12, 2019.
Place of Birth. Education. Born May 19, 1964 in Klaipeda, Lithuania. In 1970-1981. studied at Klaipeda Secondary School No. 5. Since 1971, he studied at the Klaipeda Music School (sang in the boys' choir "Gintarėlis").
In 1982-1987. - Studied at Vilnius University at the Faculty of Industrial Economics.
In 1987-1989. - PhD student of the Faculty of Economics.
In 1987-2004 - Lecturer at the Faculty of Economics of Vilnius University.
From 1990 to 1992, he did an internship at the University of Mannheim in Germany under the DAAD program.
In 1993, Nausėda received his doctorate in social sciences, defending his doctoral dissertation in social sciences on the topic "Fiscal policy directions in the context of inflation and stagflation (on the example of Lithuania)".
In addition to her native Lithuanian, Gitanas Nauseda speaks English, German and Russian.
Career. In 1992-1993 - Senior Researcher at the Institute of Economics and Privatization.
From 1993 to 1994, he was Head of the Financial Market Department of the State Administration for Prices and Competition, columnist for the national Lithuanian newspaper, "Lietuvos rytas" ("Morning of Lithuania"). In 1994 he did an internship at the Bundestag in Bonn.
In 1994-1996 - Deputy Head of the Department for Supervision of Commercial Banks of the Bank of Lithuania.
In 1996-2000 Director of the Monetary Policy Department of the Bank of Lithuania. 1998-2000 Member of the Board of the Bank of Lithuania. In 1998, he completed an internship at the World Bank in Washington.
In 2000-2008 - Advisor to the Chairman of the Board of "AB Vilniaus Bankas".
From 2004 to 2009 he was an adviser to President Valdas Adamkus.
Since 2009 - Associate Professor at the International Business School of Vilnius University.
In 2008-2018 - Advisor to the President of "SEB Bankas", Chief Economist of the bank.
Political career. In 2004, he supported the election campaign of former Lithuanian President Valdas Adamkus.
On September 17, 2018, Gitanas Nauseda announced his candidacy for the 2019 Lithuanian presidential election.
In the first round of the presidential elections, with 30.95% of the vote, he took second place and met with Ingrida Simonyte in the decisive second round. On May 26, 2019, Nauseda won the Lithuanian presidential election and took office on July 12, 2019.
Views. He advocates social equality, expanding the presence of women in power. Nausėda supports Lithuania's hard line towards Russia. He confirmed that he would not visit Moscow until Russia returned annexed Crimea to Ukraine.
Family. Married since 1990. Spouse Diana Nepaite-Nausediene (born 1964), engineer-technician. Daughters - Gedayle, Ugne.
Hobby. Chess, reading books, sports, guitar. Since 1997 he has been collecting a collection of antique books.
May 18, 2023