Ursula von der Leyen (Photo: Aidan Crawley/EPA)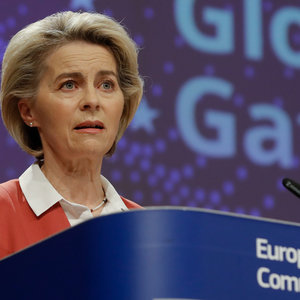 Ursula Gertrude von der Leyen (German Ursula Gertrud von der Leyen) - President of the European Commission, German politician.
Place of Birth. Education. Ursula was born on October 8, 1958 in Ixelles in Brussels, where her father worked for the European Commission (head of the Directorate-General for Competition from 1967), and lived in Belgium until she was 13 years old. Father Ernst Albrecht, a prominent politician of the Christian Democratic Union of Germany, former Prime Minister of Lower Saxony, a descendant of the daughter of Baron Ludwig Knoop Louise. In 1971 the family moved to Lehrte in Hannover.
After graduating from the gymnasium in Lehrte, Ursula von der Leyen continued her education in 1977 at the universities of Göttingen and Münster, where she studied economics. In 1978 she attended classes at the London School of Economics and Political Science. She studied medicine at the Hannover Medical School, from which she graduated in 1987 with a state examination and approbation as a doctor.
From 1988 to 1992 she worked as an assistant doctor in the gynecological department of the Hannover University Hospital. After completing her PhD studies in 1991, Ursula von der Leyen defended her dissertation for the title of Doctor of Medicine.
From 1992 to 1996, she lived with her family in Stanford, California, where her husband was a professor at Stanford University.
From 1998-2002, she was a lecturer in the Department of Epidemiology, Social Medicine and Healthcare Research at the Hannover Medical School, where she received her Master's degree in Public Health in 2001.
Ursula von der Leyen speaks French and English.
Political activity. In 1990, Ursula von der Leyen joined the German Christian Democratic Union.
In 2003, Ursula von der Leyen was elected to the Lower Saxony Parliament, and from 2003 to 2005 she was a cabinet minister in the Lower Saxony state government in the Christian Wulff cabinet for social affairs, women's affairs, family and health.
In 2005, she was appointed Federal Minister for Families, Senior Citizens, Women and Youth in Angela Merkel's cabinet.
In the 2009 federal elections, Ursula von der Leyen was elected to the Bundestag. She succeeded Franz Josef Jung as Federal Minister of Labor and Social Affairs on 30 November 2009. Ursula was considered the main candidate for the ruling parties CDU/CSU and FDP for the German presidency in the 2010 elections, but Christian Wulff was ultimately chosen as the candidate.
December 17, 2013 received the post of Minister of Defense (the first woman in this post). On July 17, 2019, Ursula von der Leyen officially resigned as Minister of Defense of Germany.
On July 2, 2019, she was proposed by the European Council for the position of President of the European Commission. July 16, 2019 Members of the European Parliament voted in favor of the candidacy of the former German defense minister Ursula von der Leyen for the presidency of the European Commission. She took office in December 2019.
Views. Ursula von der Leyen is in favor of increasing the defense spending of the European members of the alliance, for expanding cooperation between the EU countries in the military sphere, for turning it into a defense union, for moving towards a European army.
Ursula von der Leyen believes that the European Union should conduct a dialogue with the Russian Federation from a position of strength, since "the Kremlin does not forgive weaknesses."
Family. Ursula von der Leyen is married to Heiko von der Leyen, professor of medicine, director of a business development company (medical technology), who comes from the ancient county family of Leyen. The couple has seven children: David Echter (born 1987), Sophie Charlotte (born 1989), Maria Donata (born 1992), twins Victoria Ursula and Johanna Gertrude (born 1994), Egmont Ulrich (born 1998) and Grazia Diotima (b. 1999).
07.10.2021