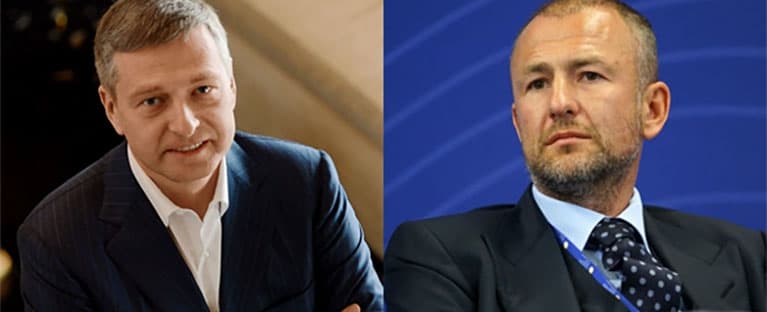 Rybolovlev is known for his collection of paintings by great Impressionist artists, Melnichenko for his luxurious beauty yacht. Both know how to live with pleasure, but when compared, only one will win.
Both billionaires know how to live with pleasure and know exactly where to invest their dollars. For Dmitry Rybolovlev, these are paintings by great masters, for Andrey Melnichenko, a luxurious yacht. I wonder what the outcome of the battle will be?
Dmitry Rybolovlev
Dmitry is a successful businessman who changed cardiology to business. An almost scandalous figure in Russian business. Former owner of Uralkali.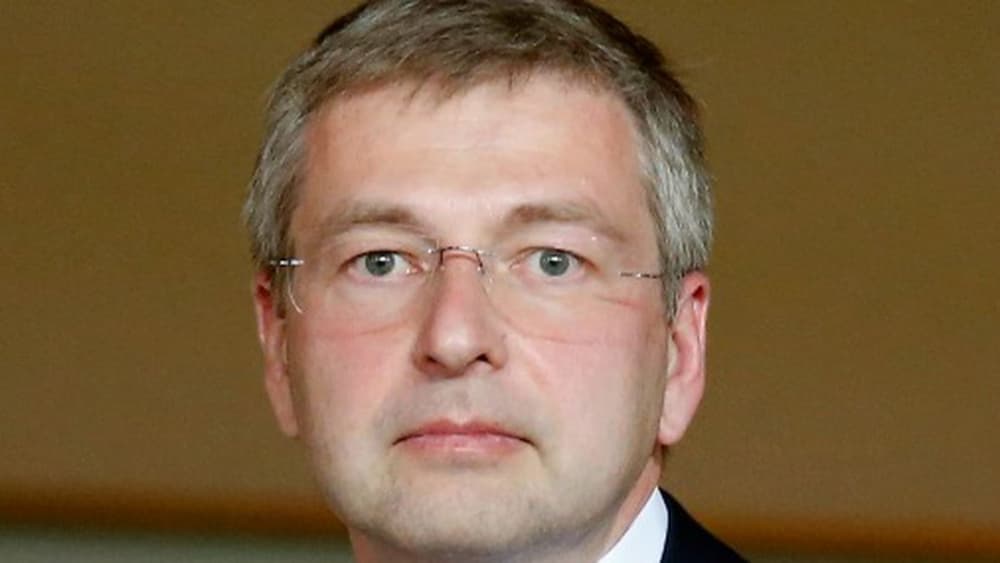 Rice. 1. D. Rybolovlev
Rybolovlev Dmitry Evgenievich was born in Perm on November 22, 1966.
His first business was directly related to medicine – the company "Magnetics", formed by him in tandem with his father. Specialization – treatment with magnetotherapy.
Then in 1992 there was his investment company Financial House. He got a good deal on privatization. But only Uralkali, the largest producer and exporter of mineral fertilizers, brought really big capital to the entrepreneur.
The block of shares in the company, which Rybolovlev collected in 1995, turned out to be enough to head the board of directors.
"One hundred percent capitalist. People for him are consumables: they are needed – they work, the need for them is gone – goodbye Nikita Belykh.
Today, Rybolovlev's chic lifestyle can only be envied. Surrounded by young models, he plows the seas on a yacht, buys works of art at a fabulous price, owns the Monaco football club (by the way, he returned it to its former glory), communicates with the Prince of Monaco and Donald Trump.
He could even be mistaken for royalty. Up to five bodyguards followed on his heels, he has a luxurious box at his disposal to watch games at the Louis II Stadium.
State
From the very first issue of the Russian version of Forbes magazine and the publication of the Golden Hundred of Russia list, Rybolovlev has been invariably present in it.
Forbes-2018 estimated his fortune at $6.8 billion and assigned him the 16th line, although the businessman knew better times. In 2008 it was estimated at 13 billion.
Table 1. Dmitry Rybolovlev in the Forbes ranking of the richest businessmen in Russia

| | Billion dollars | Place in the ranking |
| --- | --- | --- |
| 2011 | 9.5 | 14 |
| 2012 | 9 | thirteen |
| 2013 | 9.1 | 14 |
| 2014 | 8.8 | 17 |
| 2015 | 8.5 | 14 |
| 2016 | 7.7 | 12 |
| 2017 | 7.3 | 15 |
| 2018 | 6.8 | sixteen |
Source: Forbes
"Capital is such a thing that if a person is not adapted to it, he can spend his whole life in vain" (D. Rybolovlev)
Andrey Melnichenko
Intelligent energy oligarch.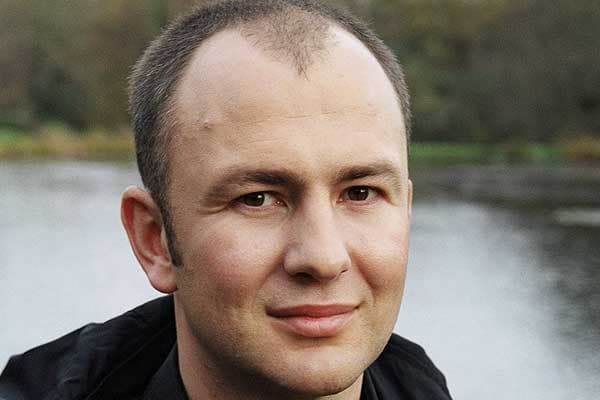 Rice. 2. A. Melnichenko
Andrei Igorevich Melnichenko was born in Gomel on March 8, 1972.
It is hardly possible to say with certainty how his ascent to the heights of success began. While still a student, the future billionaire attempted to organize his own business. There was a travel company, very successful transactions related to the sale of office equipment.
The first serious business was the currency exchange office, which grew to the financial company MDM.
But his main focus was the industrial sector. In 2004, Melnichenko owns a 90% stake in Eurochem, Russia's largest fertilizer producer.
Today, the oligarch's asset has been replenished with beneficial shares in:
SUEK (92.2%);
Siberian Generating Company (92.2%).
He acquires real estate in different countries – Russia, England, France, USA, Switzerland and Monaco.
"Young billionaire sows the seeds of future success" (Bloomberg).
State
In 2003, Melnichenko for the first time enters the list of the richest people in the world with a fortune of $ 1.1 billion and takes 514th place in it. Now he is a constant participant in the ratings.
In the Forbes-2018 list, he is seventh, over the past decade with the largest fortune of 15.5 billion dollars.
Tab. 2. Andrey Melnichenko in the Forbes ranking of the richest businessmen in Russia

| | Billion rubles | Place in the ranking |
| --- | --- | --- |
| 2011 | 8.6 | 17 |
| 2012 | 10.8 | eleven |
| 2013 | 14.4 | 6 |
| 2014 | 11.4 | 9 |
| 2015 | 9.1 | thirteen |
| 2016 | 8.2 | eleven |
| 2017 | 13.2 | 9 |
| 2018 | 15.5 | 7 |
Source: Forbes
"I feel like a happy person in this life. There is simply a part of life that does not need to be shared with anyone" (A. Melnichenko).
Who is cooler"?
Two young and zealous. How will the battle of these two rich men from the Russian Forbes list end?
Tab. 3. Comparative characteristics of billionaires

Rybolovlev

Melnichenko

answers

points

answers

points

Number of search queries

9005

one

6385

0

Education

Perm Medical Institute

one

Faculty of Physics, Moscow State University, Russian University of Economics named after G.V. Plekhanov

one

Amount of children

2

one

2

one

Number of marriages

one

one

one

one

How the business started

From scratch

one

From scratch

one

What year did you get on the Forbes list of the richest people?

2006

0

2003

one

Age of hitting Forbes

40

0

31

one

How much is spent on charity

…

…

State Size

$6.8 billion

0

$15.5 billion

one
Source: Forbes
The comparison according to the proposed parameters was in favor of Andrey Melnichenko – 5:7.
First of all, the gap in states: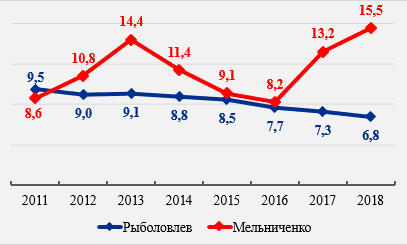 Rice. 3. Changes in the fortunes of D. Rybolovlev and A. Melnichenko in 2011-2018, billion dollars
As for patronage, it seems that the forces are equal.
Among the charitable deeds of Rybolovlev:
restored palace and park complex "Oranienbaum" near St. Petersburg;
restoration of the Cathedral of the Nativity of the Mother of God of the Moscow Zachatievsky Monastery;
the construction of the Orthodox Church of St. Nicholas on the island of Cyprus;
financing of Parfyonov's documentaries "The Ridge of Russia" and "God's Eye".
Melnichenko spends millions of dollars on:
sports development;
health support;
scientific and educational programs;
support for young talents.
These two billionaires have a lot in common. They both know what to spend their fortunes on, what to invest in. Rybolovlev is known for his art collection, Melnichenko for his luxurious beauty yacht and charitable foundation.
Both are young, full of energy and plans. If Rybolovlev had been more circumspect, the outcome could have been different. Today it is difficult to call him the standard of luck and good luck.