Narenda Modi (photo – EPA)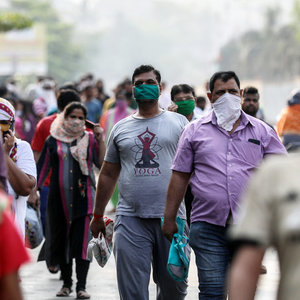 Narendra Damodardas Modi (Eng. Narendra Damodardas Modi) - Indian politician, Prime Minister of India since May 26, 2014. From 2001-2014, he was the Chief Minister of the State of Gujarat and was an MP for Varanasi. Modi, a member of the Bharatiya Janata Party - BJP (Indian People's Party), is a Hindu nationalist and a member of the right-wing Rashtriya Swayamsevak Sangh (RSS).
Place of Birth. Education. Narendra Damodardas Modi was born on September 17, 1950 into a family of grocers in the city of Vadnagar, Mehsana district, in the Bombay state (now Gujarat). He was the third of six children in the family of Damodardas Mulchand Modi and his wife Hiraben. Modi helped his father sell tea as a child and then ran his own stall. At an early age, he became interested in politics, at the age of eight he joined the ranks of the Rashtriya Swayamsevak Sangh - RSS (Union of Voluntary Servants of the Motherland). He left home after high school, in part because of an arranged marriage, which he rejected. Modi traveled around India for two years and visited a number of religious centers.
In 1978, Modi received his Bachelor of Arts in Political Science from the School of Open Learning at the University of Delhi. Five years later, in 1982, he received his Master of Arts in Political Science from the University of Gujarat.
Political career. In 1971, he moved to a full-time job at RSS. He held several positions in the party hierarchy until 2001, rising to the rank of general secretary.
In June 1975, Prime Minister Indira Gandhi declared a state of emergency in India, which lasted until 1977. During this period, known as the Emergency, many political opponents were imprisoned and opposition groups were banned. Modi was appointed Secretary General of the Gujarat Lok Sangharsh Samiti, the RSS committee coordinating opposition to the Gujarat Emergency. Soon after, RSS was banned. Modi was forced to go underground in Gujarat and often went into hiding to avoid arrest. He became involved in printing anti-government pamphlets, sending them to Delhi and organizing demonstrations. During this period, Modi wrote a book in Gujarati, Sangharsh Ma Gujarat (In Battle Against Gujarat), in which he described the events that took place during the Emergency.
In 1998, on behalf of the then leader of the Bharatiya Janata Party, Lala Krishna Advani, led the election campaign of this party in the states of Gujarat and Himachal Pradesh. In October 2001, he became Chief Minister of Gujarat, succeeding the retired Keshubhai Patel. In 2007 he was re-elected for a third term, and in 2012 for a fourth.
On September 13, 2013, Narendra Modi was named the Bharatiya Janata Party's prime ministerial candidate and led the campaign for the 2014 parliamentary elections. Modi has successfully used social media, even resorting to 3D holograms to "directly" communicate with voters and in virtual space. The program slogan of the BJP was: "Nationalism is our inspiration. Development and good governance are our goal." Voting in the elections was held in nine stages from April 7 to May 12, with a voter turnout of 66.38%.
According to the final results of the vote, the United Progressive Alliance led by the Indian National Congress party won only 59 constituencies out of 543, the BJP - in 283 constituencies, thus obtaining an absolute majority and becoming the first party in 30 years to be able to form a government on its own. The BJP has only gained control of the lower house of parliament, the Lok Sabha, but in the Rajya Sabha, it has only 46 seats out of 240, while the INC has 68, giving it a veto.
On May 20, Narendra Modi was nominated for Prime Minister of India by the Bharatiya Janata Party. On May 26, Narendra Modi took the oath of office as the Prime Minister of India.
Both in India and abroad, Modi is considered a highly controversial figure. He was heavily criticized for his actions during the 2002 Gujarat pogrom. In particular, he was accused of failing to provide protection to Indian Muslims. Despite this, Modi enjoys huge support among the people of Gujarat. He is credited with the state's rapid economic growth in the 2000s. According to the popular magazine India Today, in 2006 and 2011. N. Modi was recognized as the best chief minister of India.
Interesting Facts. Narendra Modi actively communicates with his supporters on social networks. The number of subscribers to his Twitter page is more than 30.3 million people. It is noteworthy that of the politicians, only Barack Obama (89.5 million) and Donald Trump (31.2 million) have more subscribers. Modi often posts tweets in the language of the country he is visiting.
In 2014, 2015, 2016 and 2018, he was named one of the 100 most influential people in the world by Time magazine.
He was voted Person of the Year by Time magazine readers in 2014 and 2016.
In 2016, a wax statue of Narendra Modi was exhibited at Madame Tussauds.
Modi practices a moderate life, since his youth he has limited himself in many ways and has been trying to refrain from excesses all his life. Vegetarian since youth, at the same time he refused alcohol.
He writes poetry in the Gujarati language (a language spoken in the west of the country, one of the 23 official languages ​​of India). Published a poetic book "Blessed are our eyes."
Family. According to tradition, Modi's marriage was arranged by his parents when he was a child. He was engaged at the age of 13 to a girl named Jashodaben, whom he did not really see. Their marriage was never consummated and Modi kept it a secret because otherwise he could not have become a "pracharak" (regional missionary) in the puritanical Rashtriya Swayamsevak Sangh. Although Modi kept his marriage a secret for most of his career, he acknowledged his wife when he filed his candidacy for the 2014 parliamentary elections.
Modi maintains a close relationship with her mother Hirabena and often visits her on her birthday to receive her blessings.
09/16/2021