Matti Maasikas (Photo: Andrey Gudzenko/LIGA.net)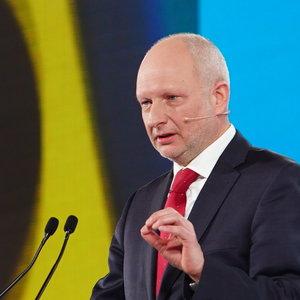 Matti Maasikas (Est. Matti Maasikas) is an Estonian diplomat. Head of the EU Delegation to Ukraine since September 2019.
Place of Birth. Education. Born on June 12, 1967 in Tallinn. In 1985 he graduated from the 4th Tallinn Secondary School, and in 1993 from the Faculty of History of the University of Tartu.
Speaks six languages: English, French, German, Finnish, Estonian, Russian.
Career. In 1993-1994 - worked as the executive director of the National Museum of Estonia, later as a consultant to the Estonian Ministry of Defense.
In 1994-1996 1999-1999 - was in charge of foreign relations of the Patriot Party, then until 1999 headed the Foreign Relations Department of the Office of the Riigikogu, and in 1999-2001 headed the Office of the Prime Minister Mart Laar.
Since 2001, he has been working as a diplomat at the Estonian Ministry of Foreign Affairs.
In 2001-2005 - Extraordinary and Plenipotentiary Ambassador of Estonia to Finland.
In 2005-2008 - Secretary General of the Ministry of Foreign Affairs of Estonia.
In 2009-2010 - Worked in the office of European Enlargement Commissioner Olli Rehn.
Since August 2010, he has been on the team of advisers to the President of the Commission, José Manuel Barroso.
In 2011-2016 - Permanent Representative of Estonia to the European Union. During the Estonian Presidency of the Council of Europe, Maasikas was appointed Special Representative of Estonia to the European Union. His role is to represent Estonia in the plenary sessions of the European Parliament, defending the common positions of the Council of the EU.
In 2016-2019 - Deputy Minister of Foreign Affairs of Estonia for European Affairs. Matti Maasikas's personal signature is under one of the most important documents for Ukraine: in 2017, during the Estonian presidency of the EU Council, he, as a representative of the presidency, signed a decision on granting trade preferences to Ukraine.
Since September 2019, he has headed the Delegation of the European Union to Ukraine, replacing Hugues Mingarelli in this post.
06/11/2021