Kersti Kaljulaid (Photo: Valda Kalnina/EPA)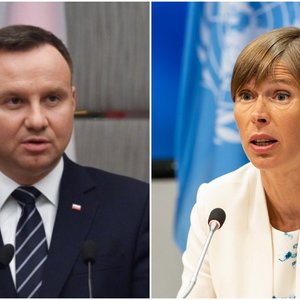 Kersti Kaljulaid (Est. Kersti Kaljulaid) - Former President of Estonia.
Place of Birth. Education. Kaljulaid was born on December 30, 1969 in the city of Tartu and is an Estonian citizen by birth. In 1987 she graduated from Tallinn Secondary School No. 44, and in 1992 from the Faculty of Biology of the University of Tartu. In 2001, she received her MBA from the University of Tartu.
She was a member of the Estonian Gene Fund and a member of the Curator of the University of Tartu. Since 2011 he has been the head of the Council of the University of Tartu.
Career. In 1998-1999 she worked as a project manager in the banking investment department of Hansapank Markets. In 1999, she was economic adviser to the Prime Minister of Estonia Mart Laar.
From 2001 to 2004 she was a member of the Fatherland Union party.
In February 2002, she was appointed head of the management accounting department of the Iru power plant. In September 2002, she was appointed director of this power plant.
From May 2004 to September 2016 she worked as the Estonian representative at the European Court of Auditors. From 2010 to 2014, she was responsible for the control methodology and annual reports. Since 2014, she has led the audit of agriculture and the reform of the structure of the chamber.
Since September 2016, she has chaired the Development Monitoring Council formed at the Chancellery of the Riigikogu.
After three unsuccessful rounds of presidential elections in the Riigikogu and two in the Electoral College, the Council of Elders of the Estonian Parliament on 27 September nominated Kaljulaid as the only candidate for the presidency. On October 3, 2016, in the Estonian presidential elections in the Riigikogu, she won 81 votes out of 101 and became the first woman president of this country. On October 10, 2016, she officially took office as the President of Estonia.
In November 2017, she took 78th place in the list of the American magazine Forbes "100 Most Powerful Women".
In June 2023, Kaljulaid was appointed by UN Secretary-General António Guterres for two years as a global advocate for the rights of women and children.
Family. First marriage (April 1, 1988) with Taavi Talvik. Son Siim Talvik and daughter Silja Märdla (Talvik). Second marriage since 2011 with Georg-Rene Maksimovsky, two sons.
In addition to her native Estonian, Kersti Kaljulaid also speaks Finnish, English, French, German and Russian.
December 24, 2023