Jack Ma_(Photo: Stephanie Lecocq/EPA)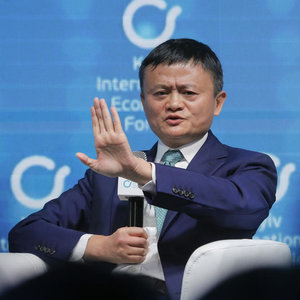 Jack Ma (real name is Ma Yun) - Chinese entrepreneur, founder of Alibaba Group.
Place of Birth. Education. Born September 10, 1964 in Hangzhou in a family of musicians. Decided to learn English at an early age and regularly cycled to a nearby hotel where he spoke to foreigners. To improve his speaking skills, he acted as a free guide around the city for tourists.
Failed college entrance exams twice. He graduated from Hangzhou Normal University in 1988 with a Bachelor of Arts degree in English.
Career. He worked as a teacher of English and international trade at the Hangzhou Institute of Electronic Industry, earning 12-15 dollars a month. In the early 1990s, he tried for a long time to get a job anywhere and later noted that he could not get a job "even assistant manager at a Kentucky Fried Chicken restaurant".
In 1995, he went as an interpreter as part of a trade delegation to Seattle, where one of his friends showed him the World Wide Web. Because trying to find something about China through the Yahoo! showed that the necessary information was completely missing, Ma, who was completely ignorant of the computer before, decided to open his own Internet company and, with the help of his wife and friend, raised the necessary start-up capital of two thousand dollars.
The website builder Ma named the Chinese Yellow Pages. Later he recalled: "The day we connected to the Internet, I invited friends to my place. We waited three hours for half a page to load. While waiting, we drank, watched TV, played cards. But I was so proud. I proved (to my guests) that the Internet exists. Due to the extremely constrained financial situation, the company's office was located in Ma's apartment. Three years later, the company's revenue was 5 million yuan (about $800 thousand).
From 1998 to 1999, he headed the China International Electronic Commerce Center, which was one of the departments of the Ministry of Foreign Trade and Economic Cooperation.
Business. In 1999, he left the civil service and founded the Alibaba Group with 17 friends, conceived as a trading platform for small and medium-sized enterprises. It took $60,000 to start the company. The name was chosen because of its ease of pronunciation in any language and its common association with the treasure tale.
From October 1999 to January 2000, Alibaba received venture capital investments totaling $25 million, but continued to incur losses. The losing streak ended after the company developed a system to allow exporters from China to find customers in the US. In 2002, the company's profit amounted to one dollar, after which it began to grow at a high pace.
Between 2003 and 2005, he founded Taobao (Chinese analogue of eBay), Alipay and Ali Mama. After the major success of Taobao (in 2006, eBay was forced to close its Chinese division due to unprofitability) and the subsequent rise in Taobao shares, eBay offered to buy the business from him, but he refused, as he wanted to maintain control of the company. Instead, Ma enlisted the support of Yahoo founder Jerry Yang, who invested in Alibaba. $1 billion In November 2012, Alibaba's revenue exceeded 1 trillion yuan.
In 2013, he left the post of president of the company, but remained chairman of the board of directors.
In September 2014, it was announced that Alibaba was preparing to list shares on the New York Stock Exchange. The official press release of the company said that it plans to attract $1 billion, but real investments far exceeded these expectations: Alibaba attracted $25 billion, becoming the most successful IPO in history.
On September 10, 2019, Jack Ma officially stepped down as Chairman of the Board of Directors. Alibaba.
State. At the end of 2014, Jack Ma was recognized as the richest man in Asia by the Bloomberg Billionaires Index.
As of the end of November 2018, Forbes assessed the state of the entrepreneur in $35.8 billion, making him the richest person in China and the 15th richest person in the world.
Views. He is an active fighter for the conservation of nature. In 2009, following his decision, Alibaba banned the sale of shark fin products on all of its commercial platforms. In 2010, after stepping down as president of Alibaba, Ma became chairman of the China Council for Nature Protection. At the same time, he announced that Alibaba would allocate 0.3% of annual revenue to various environmental programs, in particular, programs to improve water and air quality.
Personal life. In the late 1980s, he married fellow student Zhang Wei. The marriage produced two children: a son, Ma Yuankong, and a daughter, Ma Yuanbao.
09/09/2021