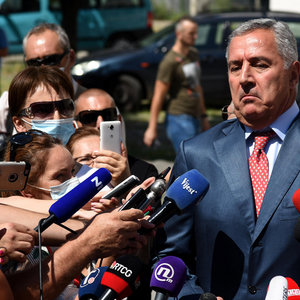 Milo Djukanovic - President of Montenegro. Leader of the Democratic Party of Socialists of Montenegro. Prime Minister of Montenegro in 1991-1998, President of Montenegro in 1998-2002. From 2003 to 2006 (February 29, 2008 to December 29, 2010) - Prime Minister of the Republic of Montenegro. He became prime minister again on December 4, 2012, having worked in this position until 2016.
Place of Birth. Education. Milo Djukanovic was born on February 15, 1962 in Niksic, Montenegro. His father Radovan worked as a judge, his mother worked as a nurse. In addition to Milo, the family also had an older sister, Anna, and a younger brother, Ako. After graduating from school in Niksic, Milo entered the University of Montenegro in Titograd at the Faculty of Economics, graduating in 1986 with a diploma in tourism economics.
Political career. In 1979, while still at school, Milo Djukanovic became a member of the Union of Communists of Yugoslavia. His father was an influential member of this only legal party. In 1989, at the age of 26, Djukanovic was elected to the Central Committee of the SKYU. Soon, together with his associates Momir Bulatovich and Svetozar Marovic, he pushed the "old guard" out of power in Montenegro, launching a campaign of the so-called "anti-bureaucratic revolution" with the direct support of Slobodan Milosevic and the state security agencies. Although their triumvirate did not formally hold key positions, they were able to place their people in important government posts.
In 1996, he became an opponent of Slobodan Milosevic, abandoning the traditional allied ideology of Serbia and Montenegro in favor of the idea of ​​independence. During his presidency in 2003, the Federal Republic of Yugoslavia became the State Union of Serbia and Montenegro, and during his fourth term as prime minister, Montenegro declared independence (2006), subsequently confirmed by referendum.
He served as prime minister for three consecutive terms from 1991 to 1998 (1991-1993, 1993-1996, 1996-1998), after which he was president of Montenegro (1998-2002) and again prime minister (2003-2006). After leaving office at the end of 2006, he returned in February 2008. His bloc won the 2009 early parliamentary elections with 51.94% of the vote, which secured Djukanovic's sixth term. He resigned in December 2010, four days after the EU granted Montenegro official candidate status for membership.
October 17, 2016 Milo Djukanovic announced the victory of his party (Democratic Party of Socialists) in the parliamentary elections: he received 36 out of 81 seats. At a press conference after the elections, he confirmed the previously announced course for Montenegro's accession to the EU and NATO.
Djukanovic is also a long-term president of the Democratic Party of Socialists of Montenegro (formerly the Montenegrin wing of the Communist Party of Yugoslavia), which has a majority in the country's parliament since the introduction of a multi-party system.
On October 26, 2016, a representative of the Socialist Party announced the impending resignation of Djukanovic, without giving reasons. On November 28, 2016, Dusko Markovic replaced him as head of government.
Since May 20, 2018 - President Montenegro.
Coup attempt in Montenegro. On November 10, 2016, Montenegrin Prime Minister Milo Djukanovic accused the pro-Russian opposition of being directly involved in a conspiracy scenario regarding a forceful change of government in the country and his assassination on election day. On October 16, 2016, election day in Montenegro, Russian intelligence agents, with the support and blessing of Moscow, planned to organize a plot to attack the Montenegrin parliament and assassinate the pro-Western head of government in order to sabotage the country's plan to join NATO.
On October 16, 2016, 20 citizens of Serbia were arrested in Montenegro, whom the Montenegrin security forces accuse of preparing armed attacks on state institutions, police stations and officials after the completion of voting in the parliamentary elections.
02/12/2023