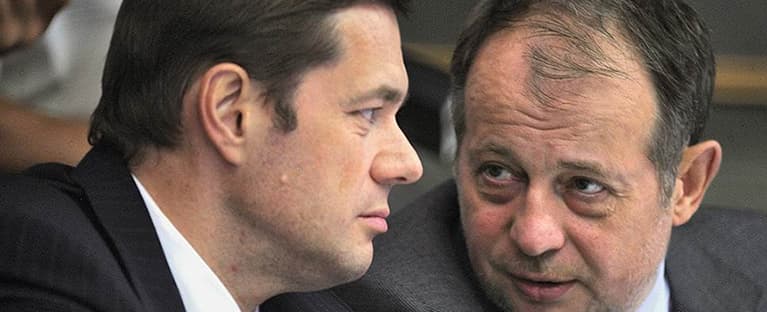 Battle of the Billionaires: Mordashov vs. Lisin. Today in their battle victory for Vladimir Lisin. But who knows, perhaps the ambitious plans of Alexei Mordashov are destined to come true?
The success of these two leaders of the Russian rating of billionaires Forbes-2018 can be envied by many. It will be difficult to determine which of them is cooler.
Alexey Mordashov
He broke into the society of Russian oligarchs too quickly. He was even nicknamed "Iron Boy". Starting as an economist at the Cherepovets Metallurgical Plant, he worked his way up to the CEO of one of the largest metallurgical enterprises in Russia. He is the CEO and founder of Severstal Management JSC, Severgroup CJSC, Algorithm LLC, Capital, Regul and Holding Mining Company. This one of the richest people in Russia, besides a media mogul, controls the media in the Vologda region.
Figure 1. A. Mordashov
Alexey Alexandrovich Mordashov was born on September 26, 1965 in Cherepovets, Vologda Region.
Graduated with honors from the Leningrad Engineering and Economic Institute. Returning to Cherepovets, he took the place of a senior economist at the plant. And in 1988, from the factory, he was sent to Austria for a three-month internship.
He was noticed by the director of the plant, Yuri Lipukhin. This person will play an important role in the career of a savvy economist.
In 1992, Alexei Mordashov, at the age of 27, took the position of financial director of the plant, which many did not like. With the filing of Lipukhin in 1993, Mordashov took up a new business – he bought vouchers and shares from the factory and was so successful in this business that no one had time to notice how this young man became the owner of 83% of the shares of ChMK. Lipukhin was removed from leadership, and his young, assertive protégé took charge of the case.
"I entrusted the privatization of the plant to Alexei, and it was my mistake. Because at one point he became a completely different person. He turned out not to be the master of his word" (Yu. Lipukhin).
A new structure, Severstal-invest, was created especially for these purposes. Mordashov went straight to wealth. He concentrated all his efforts on metallurgy, gradually increasing his assets. In 2004 Ford's steel plant "Rouge Industries lnc."
His company "Severstal" has become a leader in the iron and steel industry. Part of the funds received from Severstal in the form of dividends, he invested in the travel company TUI, the largest in the world (its capitalization is more than $ 9 billion).
In 2003, Mordashov became a co-owner of Rossiya Bank.
In 2008, Mordashov, together with Surgutneftegaz and Rossiya Bank, creates the National Media Group, which owns TV channel packages:
"First";
"Fifth";
REN TV.
And newspapers: Izvestia, Metro-Petersburg, Sport-Express.
In 2013, together with Yuri Kovalchuk, Mordashov acquires a 50% stake in Tele2.
He became a pioneer for the Russian Forbes. In the April 2004 issue, his photo was on the cover of the very first issue. Forbes estimates Mordashov's fortune at $18.7 billion. This is the best indicator since 2011. For many years he remains in the Golden Hundred of Russian Billionaires. And in the ranking of 2018, he takes 2nd place.
He is among the few Russian businessmen included in the first hundred of the Forbes world ranking on the 60th line.
Vladimir Lisin
The biography of the magnate of the Russian metallurgical industry is the path from a simple steelmaker to the owner of the Novolipetsk Iron and Steel Works and the transport and logistics holding Universal Cargo Logistics Holding.
This is a real metallurgist who has earned a billionth fortune.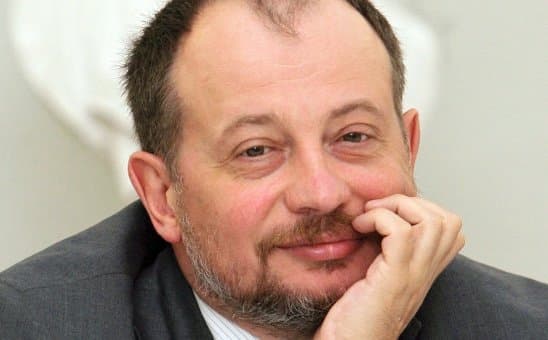 Figure 2. V. Lisin
Vladimir Sergeevich Lisin was born in Ivanovo on May 7, 1956. He graduated from the Faculty of Engineering of the Siberian Metallurgical Institute.
He began working at the age of 19, while still a student, at the Kuzbass coal mine as an electrician. Parents needed financial support.
With a diploma, he began working as a steelmaker at the Tula Metallurgical Plant. Thanks to his diligence and diligence, it became possible to move up the career ladder as a deputy shop manager.
Then there was a postgraduate study at the Kharkov Research Institute and the position of Deputy Lead Engineer at the Karaganda Metallurgical Plant. Lisin received his first commercial experience with the approval of director Oleg Soskovets, who created a subsidiary of the plant called TSK-Steel and appointed his deputy as its head.
Soskovets was soon appointed Minister of the Metallurgical Industry (1991). He dragged Lisin behind him.
In the capital, he met with the owner of Trans Commodities, Semyon Kislin. Their joint business made full use of Lisin's connections.
There will be an acquaintance with those who play an important role in the metal industry: Makhmudov, Chernov and Deripaska.
In 1994, he received another diploma, already RANEPA, and then there were 2 years of study at the MISiS doctoral program.
In 1993, he becomes a partner in the Trans World Group, but as a safety net he buys NLMK shares until he seizes control of the company and becomes its head in 1998. From that moment on, Lisin is actively increasing momentum, buying up shares of the country's largest metal-rolling mills, striving to take control of the shares.
The sphere of his interests includes Stoilensky GOK, which will provide NLMK ore for many years to come, the Northern Oil and Gas Company, Moscow real estate investment, seaports, export channels to Asia, Africa, Europe, America and enterprises of other industries that ensure the independence of his business.
"Money must constantly work" (V. Lisin).
Today Vladimir Lisin is No. 1 among the domestic rich. Forbes estimates his fortune at $19.1 billion. The businessman is currently No. 1 of the Russian oligarchs included in the Forbes global rating, in which he occupies the 57th line.
Who is cooler"?
Let's try to evaluate which of these two billionaire metallurgists is cooler. They have a lot in common.
Table 1. Comparative characteristics of billionaires

Mordashov

Lisin

answers

points

answers

points

Number of search queries

13603

0

17284

one

Education

Leningrad Engineering and Economic Institute

0

Siberian Metallurgical Institute,

Postgraduate study at RANEPA, doctoral studies at MISiS

one

Amount of children

Son from 1 marriage, 2 sons from 2, 2 daughters and a son from 3

one

3 sons

one

Number of marriages

3

one

one

one

How the business started

From scratch

one

From scratch

one

What year did you get on the Forbes list of the richest people?

2004

one

2004

one

Age of hitting Forbes

39

one

48

0

How much is spent on charity

…

…

State Size

$18.7 billion

one

$19.1 billion

one
Source: Forbes
Comparison according to the proposed parameters in favor of Vladimir Lisin – 6:7.
But is everything so obvious?
Lisin is known for his incredible mind, unshakable perseverance in any business. I accidentally chose a profession and achieved unprecedented heights in it. And Mordashov is a long-term and strategic investor who knows how to choose friends.
They seem to be competing to see who can earn the most.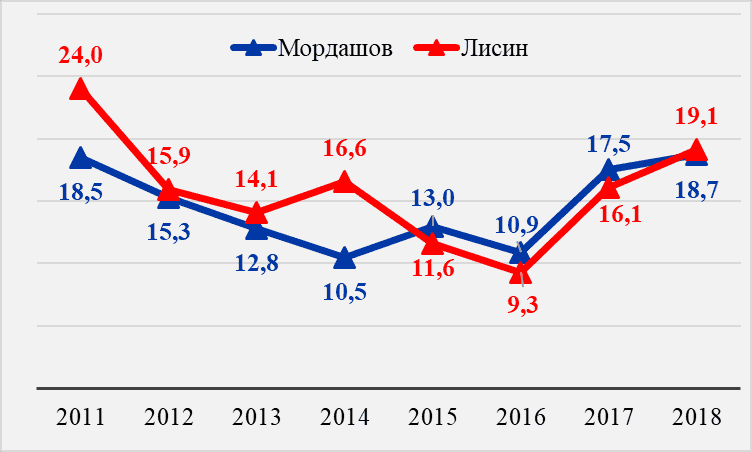 Figure 3. Change in the state of A. Mordashov and V. Lisin in 2011-2018, billion dollars
Charity
On the initiative of A. Mordashov, the charitable foundation "Road to Home" was established. He is a member of the Board of Trustees of the Bolshoi Theater and supports sports.
Vladimir Lisin is also actively involved in charity work. Allocates funds to the charity fund "Mercy", pays Makariev Prizes at the request of the Metropolitan of Voronezh.
They are so different, quick-tempered and conflict Mordashov, calm and phlegmatic Lisin. They have succeeded in what they do.
They have different motivations. Lisin is sure that he owes all his success to children. Everything he does is for them. Mordashov does not hide the fact that he likes everything that brings income, and he is making new plans to conquer the world.
Today in their battle victory for Vladimir Lisin. But who knows, perhaps the ambitious plans of Alexei Mordashov are destined to come true?