When it comes to accessorizing, there are a few pieces that will always stand the test of time: a great watch, a fabulous necklace, and stylish earrings.
And while just about any type of earpiece can work well with an outfit, skull earrings have a certain edge and cool factor that can really make you stand out from the crowd.
So, if you're looking to add some skulls to your accessory collection, here are 10 style tips for wearing them with confidence and flair!
1. Consider The Occasion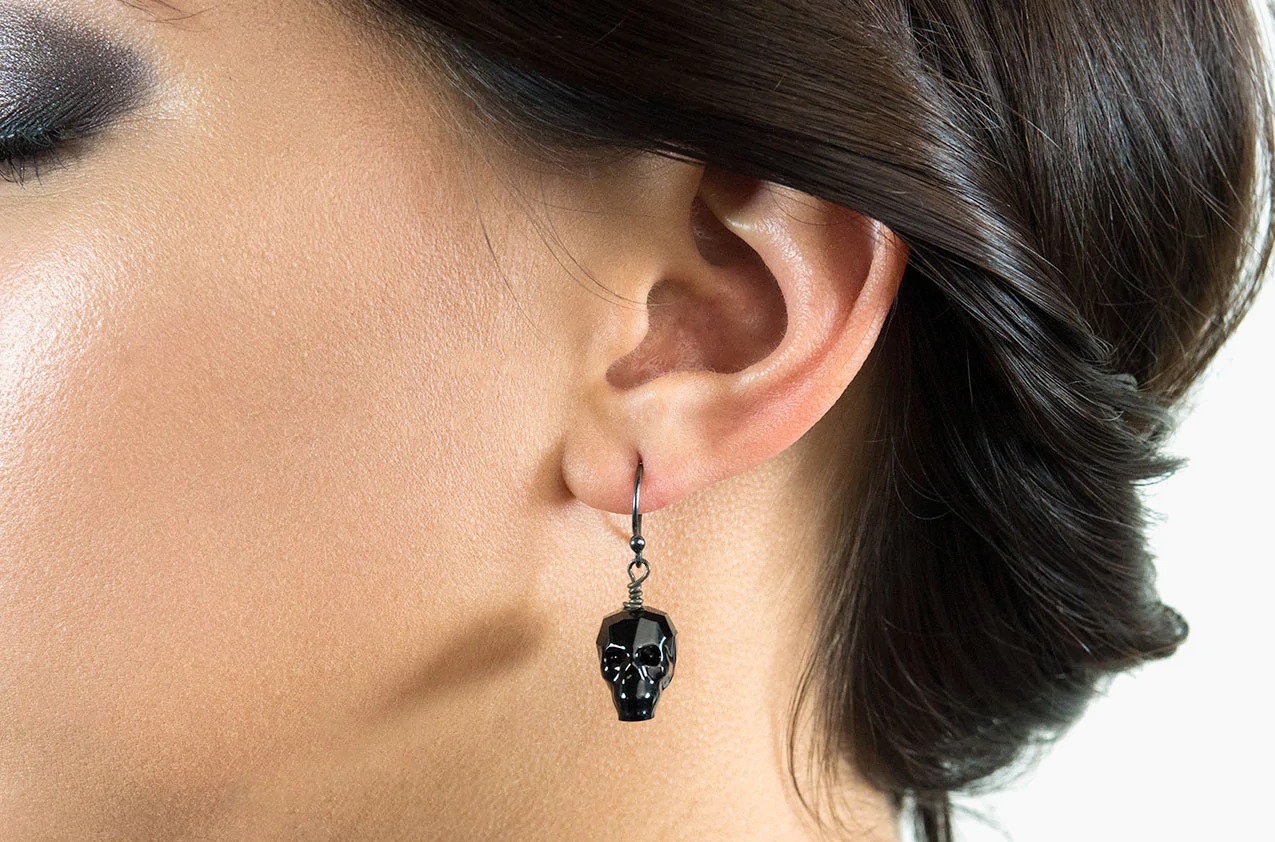 While we get that you really want to rock your skull pieces everywhere you go, it's important to consider the occasion before doing so.
For example, you might want to leave the larger, more statement-making pieces for a night out on the town or a rock concert, and opt for smaller, more subtle skull jewels for work or school or a more formal event.
Just imagine going for a black tie event with some big, bad skull earrings hanging from your ears – not a good look! Well, actually, it's a good look – just not appropriate for the occasion.
2. Blend Them With Your Outfit
There are only so many things that actually look great with these things, and we have to say – a tan suit and a powder blue shirt are not two of them.
So, if you're going to wear yours, make sure they actually go with the rest of your outfit. A great way to do this is by choosing earrings that are the same colour as another piece of clothing you're wearing, like your shoes or top. Also, keep the overall style in mind.
For example, if you're wearing a flowy, bohemian dress, then some chunky skulls might not be the best choice. Whereas if you're wearing a leather jacket and skinny jeans, then my all means, let the skeletons run free and dangle from your ears.
3. Keep It Simple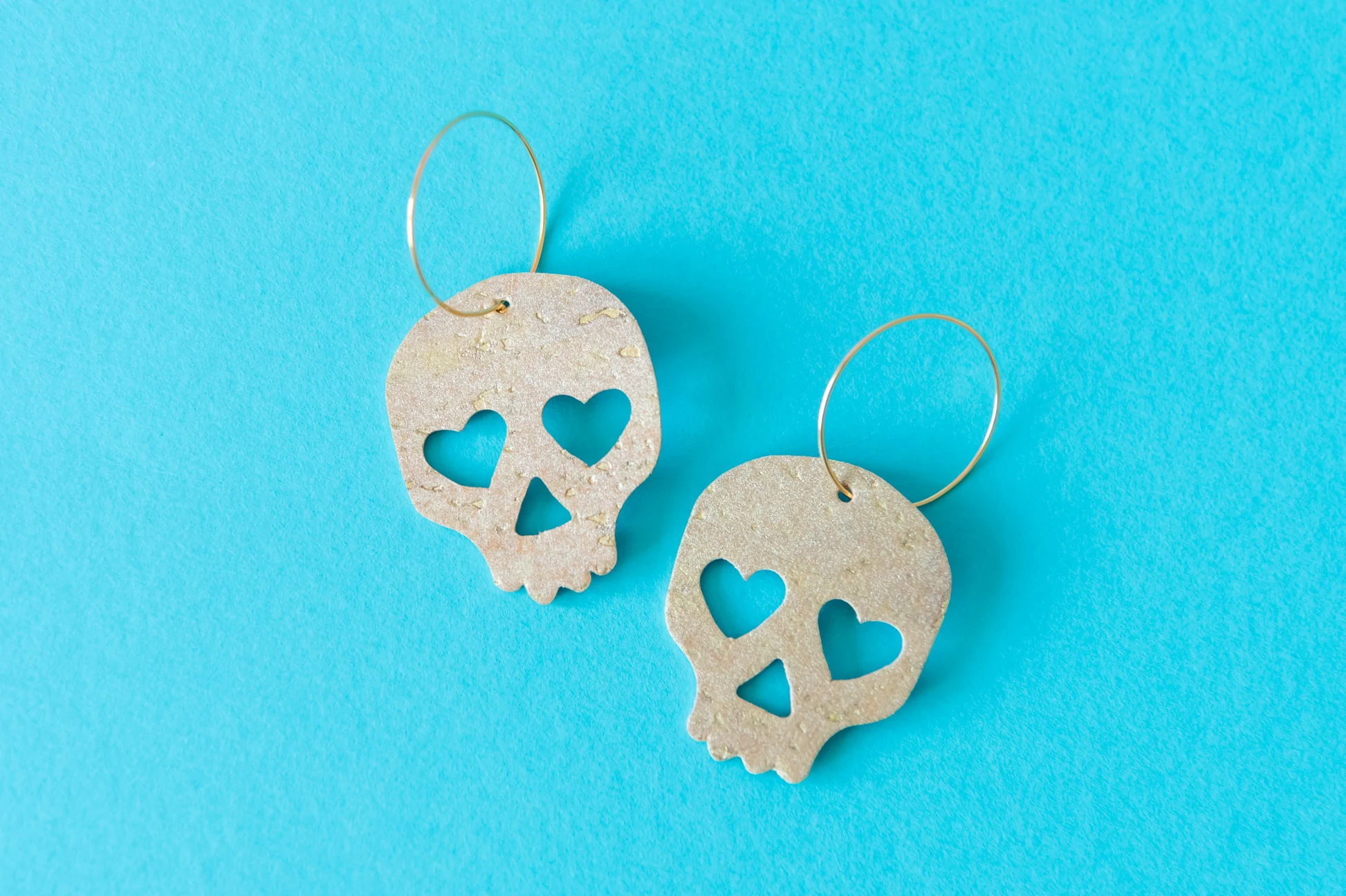 It's one thing to pay attention to detail and it's another one to overdo it. When it comes to wearing these things, it's important to keep things simple and not go overboard with too many other accessories.
After all, the goal is to let your skulls be the star of the show, not to have them compete with everything else you're wearing. So, if you're going to wear a necklace, make sure it's a delicate chain or pendant that won't take away from your main accessory.
And if you're wearing a bracelet, choose something dainty or go without. The same goes for rings – one or two is fine, but more than that and you risk looking like you're trying too hard to look hard.
4. Add A Pop Of Colour
While we know you think black is such a happy colour, sometimes it's nice to add a little bit of colour into the mix.
And when it comes to these things, there are so many great options to choose from – just check out bikerringshop.com! Whether you go for a bright and bold pair of bejewelled eyes for your earrings or something a little more subdued, adding a pop of colour is a great way to show off your personal style.
5. Be Mindful Of Scale And Proportion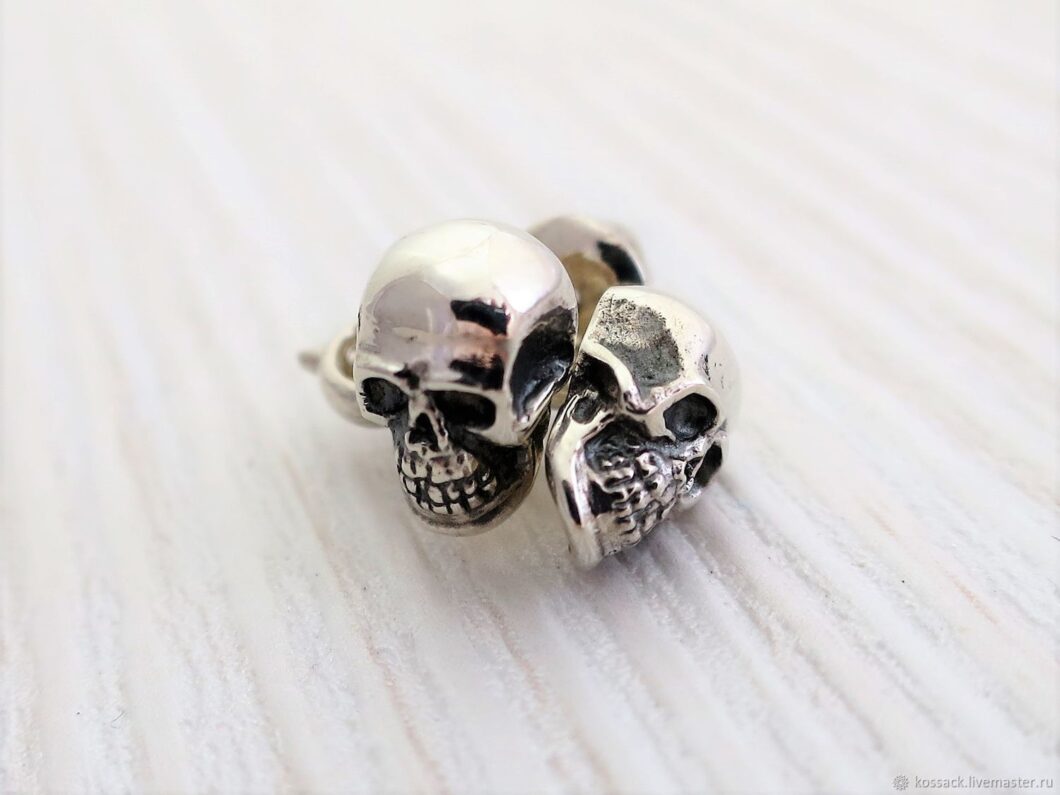 While chunky pieces can look good, there's such a thing as going too big. It's important to be mindful of scale and proportion so that your earrings don't look out of place or overwhelming.
A good rule of thumb is to choose ones that are in proportion to your face. Also, choose the ones that won't literally stretch your ears out. We're not saying you should go for the tiny, delicate pieces, but just be aware of how big your earlobes can actually take.
6. Think About Texture And Material
These things come in all different materials, from plastic to metal to glass. And while each type of material has its own benefits and drawbacks, it's important to think about the overall look and feel you're going for.
For example, if you want your earrings to have more of a refined look, then choosing a pair made from sterling silver or gold would be a better option than plastic or glass. But if you're just looking for something fun and funky, then go ahead and choose the material that best fits your personality.
7. Go For Quality Over Quantity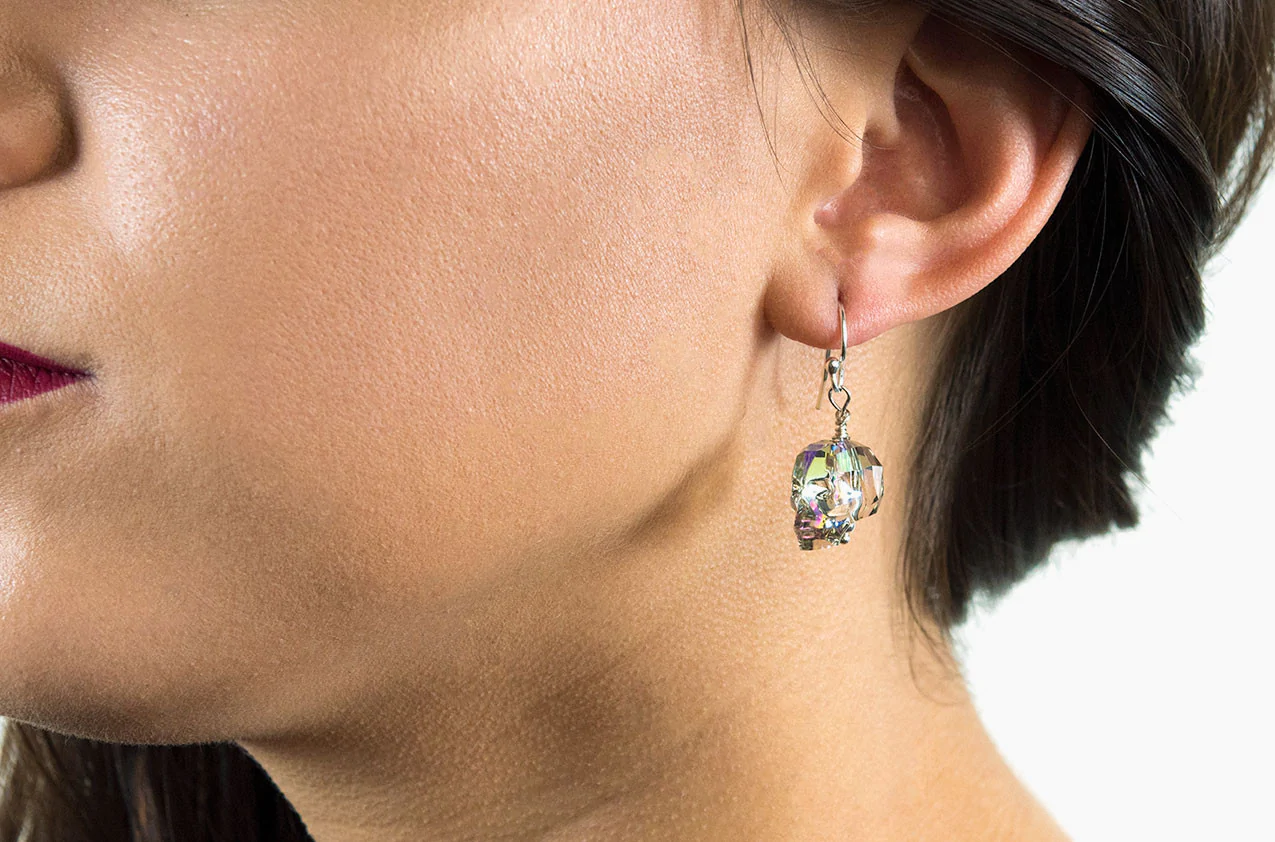 Always, and we mean always – go for quality over quantity. This is especially true if you're going to be wearing your earrings on a regular basis.
Not only will better-quality pair last longer, but they'll also look better and feel more comfortable to wear. So, if you can, invest in a few pairs of high-quality skull earrings that you can rotate through instead of buying a bunch of cheap pairs that will just end up falling apart.
8. Accessorize With Other Pieces
We know we said to keep it simple, but keeping it simple doesn't mean you can't accessorize. In fact, one of the best ways to style skull earrings is to pair them with other pieces, like a bracelet or a necklace.
Doing this not only adds another layer of interest and dimension to your look, but it also helps tie your whole outfit together. Just be careful not to go overboard – remember, less is more.
9. Get Creative With Your Hairstyle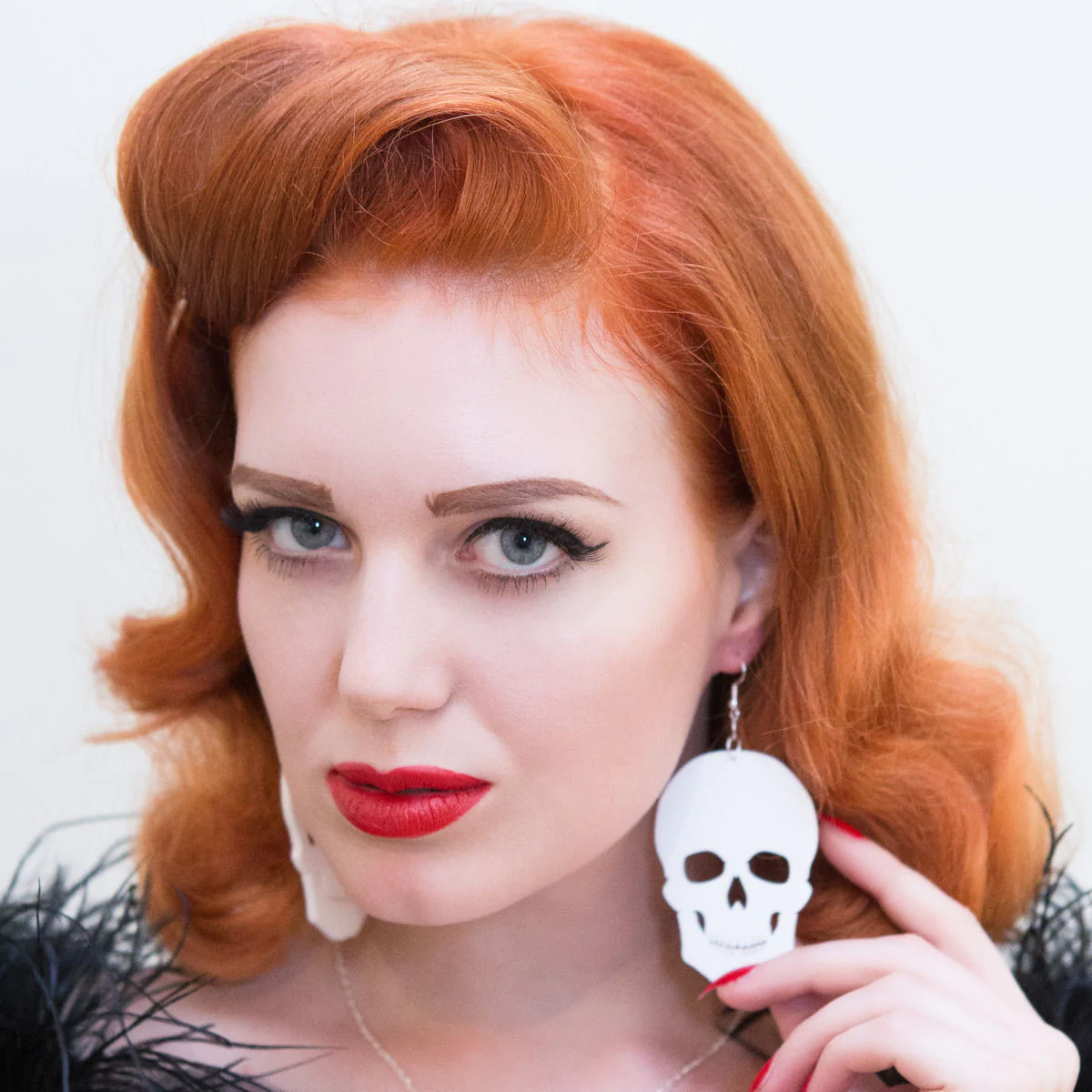 Your hair is one of the best accessories you have, so why not use it to show off your earrings? There are lots of great hairstyles that look great with skull earrings, from a messy bun to beachy waves.
So, whether you're just looking for a way to keep your hair out of your face or you want to show off your new jewels, consider getting creative with your hairstyle.
Final Tip – Have Fun With It!
Skull earrings are all about having fun and showing off your personality, so don't be afraid to experiment and try new things. Whether you go for a classic pair of skull earrings or something a little more out there, just make sure you're having fun with it.
After all, fashion is supposed to be fun, so don't take it too seriously. Just have fun and rock those skull earrings with confidence!