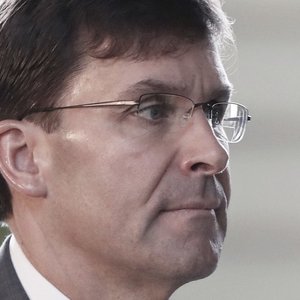 Mark Thomas Esper (Eng. Mark Thomas Esper) - American politician, former Secretary of Defense of the United States.
Place of Birth. Education. Born April 26, 1964 in Uniontown, Pennsylvania, USA. He graduated from the US Military Academy in 1986 with a Bachelor of Science degree in mechanical engineering. In 1995 he received a master's degree in public administration from the School of Management. John F. Kennedy at Harvard University. In 2008, he received his Ph.D. in public policy from George Washington University.
Career. He served as an officer in the 101st Airborne Division, a participant in the Gulf War.
From 1996 to 1998, he headed the staff of the Heritage Foundation, a conservative think tank.
From 1998 to 2002, he worked as a senior professional officer of the Senate Foreign Affairs Committee and the Senate Government Affairs Committee. He was also Senior Policy Adviser and Director of Legislative Affairs for U.S. Senator Chuck Hagel.
From 2001 to 2002, he was director of political affairs for the Committee on Armed Services of the House of Representatives.
From 2002 to 2004, he served in the George W. Bush administration as Deputy Assistant Secretary of Defense for Negotiation Policy. Responsible for non-proliferation of nuclear weapons, arms control and international security issues.
He returned to the Senate from 2004 to 2006, serving as director of national security for the US Senate under Senate Majority Leader Bill Frist.
In 2006 and 2007 - Executive Vice President of the Association of Aerospace Industries.
From September 2007 to February 2008, he was National Policy Director for Senator Fred Thompson during his 2008 presidential campaign.
From 2008 to 2010, he was Executive Vice President of the Global Intellectual Property Center and Vice President for European and Eurasian Affairs at the US Chamber of Commerce.
In July 2010, he was hired as vice president of government relations at the military-industrial company Raytheon. Esper was recognized as The Hill's Leading Corporate Lobbyist in 2015 and 2016.
On July 19, 2017, US President Donald Trump nominated Esper for the post of Secretary of the Army, and he became the third candidate for this post - Trump's proposed Vincent Viola and Mark Green withdrew their candidacies. On November 15, the Senate confirmed him by 89 votes to 6, and on November 20, Esper officially took office.
On June 24, 2019, after the resignation of Patrick Shanahan, he took over as interim US Secretary of Defense.
On July 15, 2019, President Trump formally nominated Mark Esper to the Senate for confirmation as the new Secretary of Defense, and appointed Secretary of the Navy Richard Spencer as Acting Secretary of Defense.
On July 23, 2019, Mark Esper was officially approved by the US Senate.
November 9, 2023 Donald Trump fired Mark Esper defense minister.
04/23/2021