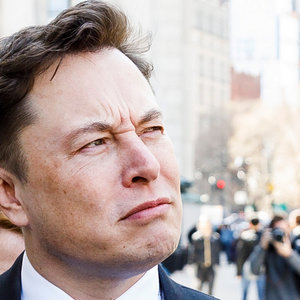 Lawrence Joseph"Larry" Allison (Eng. Lawrence Joseph "Larry" Ellison) is an American entrepreneur, co-founder, chairman of the board of directors and chief technology officer (CTO) of Oracle Corporation, former CEO (CEO) of Oracle (1976-2014), the largest shareholder of NetSuite (acquired by Oracle in 2016 for $9.3 billion), an initial investor in Salesforce.com, a philanthropist.
As of August 2017, with a fortune of $ 60.6 billion, according to Forbes magazine, he ranks fifth in America and seventh in the world among the richest.
Place of Birth. Education. He was born on August 17, 1944 in New York to Florence Spellman, a 19-year-old unmarried Jewish woman. His father was an American Air Force pilot of Italian origin. The father was transferred abroad to a new duty station even before Spellman realized that she was pregnant. When nine-month-old Larry fell ill with pneumonia, the mother realized that she could not properly care for her child. At the request of his mother, he was placed in the care of his mother's uncle and aunt in Chicago. Lillian Spellman Ellison and Louis Ellison adopted Larry when he was 9 months old. Ellison did not know the name of his mother and did not meet her for 48 years.
Ellison grew up in Chicago, attended school there, and began studying at the University of Illinois at Urbana and Champaign. Due to the death of his adoptive mother, he did not take exams after the second year of study. After spending a summer in northern California with friend Chuck Weiss, he returned to Chicago and spent a semester at the University of Chicago, where he was introduced to computer science for the first time. In 1964, at the age of 20, he moved to northern California.
Business. In the early 1970s, he worked for Amdahl and Ampex. One of his projects at Ampex was the development of a database for the CIA, which he called the Oracle.
Ellison was greatly influenced by Edgar Codd's article "A Relational Model of Data for Large Shared Data Banks", which is considered the first work on the relational data model. He co-founded Software Development Laboratories (SDL) in 1977 with two Ampex colleagues. In 1979, SDL was renamed Relational Software Inc., and a few years later - in 1982 - Oracle, after the name of the main product - Oracle Database. Knowing about the existence of the IBM System R DBMS, which was also based on Codd's ideas, Ellison tried to make the Oracle DBMS compatible with it. However, IBM refused to disclose the source code of the program and it was not possible to ensure the compatibility of the DBMS. The first version released was the Oracle v2 DBMS in 1979, for marketing reasons the first version number was not assigned.
In the 1980s, Oracle was busy releasing new versions of the DBMS. In 1986, Oracle's shares began to be listed on the stock exchange, in three years the company multiplied its sales, which reached $584 million. However, already in 1990, the company ran into difficulties, announcing losses, and was forced to lay off hundreds of its employees.
In September 2014, he resigned as CEO of Oracle Corporation, having worked in this position for almost 38 years - since the founding of the corporation, but he remained Chairman of the Board of Directors and took over as Chief Technology Officer (CTO) of Oracle Corporation. In this post, he will remain in charge of managing the development of software and hardware at Oracle.
In November 2016, Oracle acquired NetSuite for $9.3 billion. Ellison had a 35% stake at the time of the purchase and personally received $3.5 billion from the deal.
State. Ellison's name first appeared in Forbes magazine in 1986, when his fortune was estimated at $185 million. During the peak of the value of technology companies before the dot-com crash in 2000, his fortune was estimated at $48 billion.
As of September 2012, the fortune was estimated at $ 44 billion - the third in the United States (after the fortunes of Gates and Buffett).
As of February 2016, the fortune is estimated at $43.6 billion (7th place in the world).
As of August 2017, with a fortune of $ 60.6 billion, according to Forbes magazine, he ranks fifth in America and seventh in the world.
In 2019, the fortune was estimated at $ 62.5 billion, which ensured the 7th place in the ranking of the richest people in the world according to Forbes.
Philanthropist. In August 2010, it was reported that Ellison was one of 40 billionaires who had signed "The Giving Pledge" (a campaign to encourage rich people to donate most of their wealth to charity). Alison wrote: "Many years ago, I placed virtually all of my assets in trust with the intention of giving at least 95% of my wealth to charitable causes. I have already given hundreds of millions of dollars to medical research and education, and over time I will be giving away billions. Until now, I have done it quietly, because I have long believed that charitable giving is a personal and private matter."
In 1998, the Lawrence J. Ellison Outpatient Care Center opened on the Sacramento campus of UC Davis Medical Center.
After the September 11 terrorist attacks, Ellison made an offer to donate software to the federal government that would build and run a national identity database and issuance of identification cards.
In May 2016, Ellison donated $200 million to the University of Southern California to establish a center for cancer research: the USC Lawrence J. Ellison Institute for Transformative Medicine.
Family. Ellison was married 4 times: from 1967-1974 - Ada Quinn (Ada Quinn), from 1977-1978 - Nancy Wheeler (Nancy Wheeler), from 1983-1986 - Barbara Boothe (Barbara Boothe), from 2003-2010 - Melanie Kraft. Married to Barbara Booth, two children were born - David Ellison and Megan Ellison.
08/16/2021