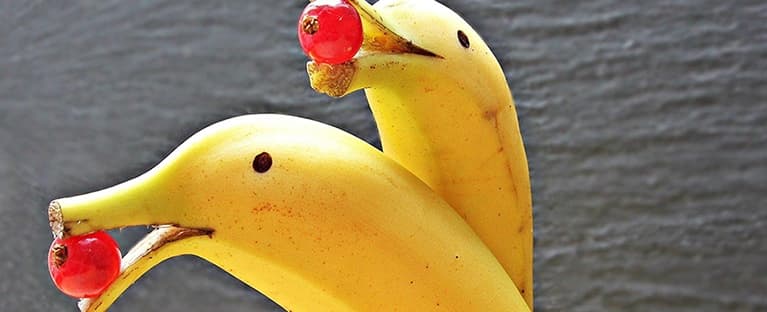 You need an idea to start a business, and even if it seems crazy to others, this should not stop you, like entrepreneurs from Canada who decided to sell air and succeeded in this, or Matt Williams, who figured out how easy it is to make money installing shelves in toilets.
Many of the projects that are among the most successful business ideas were considered crazy at first. For example, at the initial stage, no one believed in the success of the social network Facebook, which was considered uncompetitive in the market, and the concept of a multi-business company Virgin, created by the expressive Richard Branson. However, some ridiculous business models are simply bewildering and, nevertheless, bring hundreds of thousands and even millions of dollars to their owners.
How to sell air?
Entrepreneurial Canadian startups Moses Lam and Troy Puckett, who previously worked in financial services and real estate, created Vitality Air back in 2014. The very idea of ​​​​selling containers filled with air was perceived by entrepreneurs' friends as a joke. The first filled package was sold on eBay for less than 99 cents (about 38 rubles at the average annual rate), and the second for $168 (about 6.5 thousand rubles), thanks to the rapidly spreading viral advertising on the Internet.
The success made businessmen think about creating their own enterprise: in their free time, friends wrote a business plan and began to study sales markets. It turned out that in many developed countries the problem of air pollution is acute: in India and China, millions of people die every year from diseases caused by the state of the environment.
In 2015, the partners managed to raise $1 million for the startup. Lam and Puckett used $60,000 to buy a truck and another $14,000 for a trailer, as well as an air collection pump and other equipment. Then they started experimental production: they went to the mountains to collect oxygen and pack it. According to entrepreneurs, at the launch stage they had a lot of problems with papers and permits. No one knew how to qualify a completely new product for the market – bottles with clean air, equipped with special breathing devices.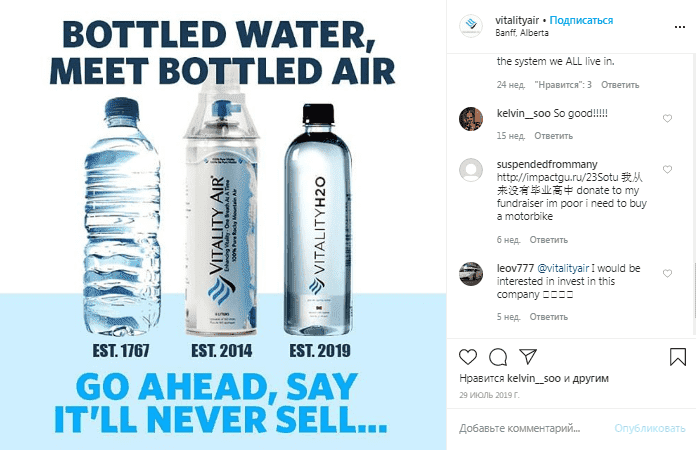 Photo: @vitalityair
The first batch of 500 units was sent to customers in Los Angeles in June 2015. In October, 5,000 containers were purchased by Chinese partners. At the same time, an investor from Dubai invested $500,000 in the growing company. During the first year, Vitality Air earned $30,000 (1.8 million rubles), in 2016 sales jumped to $230,000 (15.4 million rubles). ), and the sales volume in 2017 amounted to $ 500 thousand (29.2 million rubles).
The main share of consumers is in Asia: after two years of work, the company opened a representative office in South Korea. Vitality Air now sells oxygen in bottles with an inhalation mask, scented air, sports products, and a refreshing spray. The price of a basic tank containing 8 liters of oxygen is $ 26.495 (1.9 thousand rubles).
Material on the topic: How to make water from air.
Back Razors Selling Millions
Matt Drayfhout's wife didn't like the hair growing on her husband's back, so he had to wax regularly. The procedure caused such pain that I had to take pills. In search of a less unpleasant way to remove hair, Drifhout began to study online stores and came to the conclusion that all existing devices are electrical, which means they cannot be used in the shower. So the entrepreneur came up with the idea of ​​​​creating the Bakblade brand – a safety razor with a long handle in a plastic case.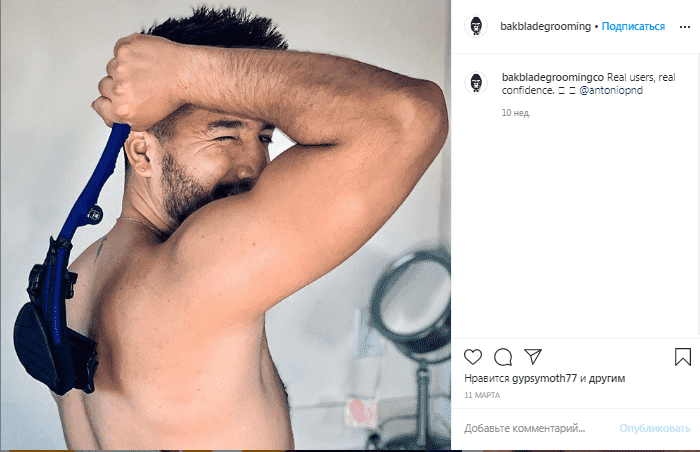 Photo: @bakbladegroomingco
The couple invested about $ 10 thousand in the production and testing of a new razor and in 2013 they sold the first batch. However, sales grew slowly at first. After 3 years, by developing an improved model with a folding handle and launching a viral advertisement, Drifhout managed to raise more than $ 1 million for the project using a crowdfunding platform. In 2017, the company's turnover increased to $4.8 million (312 million rubles). In 2018, according to Matt himself, the startup's revenue doubled.
Making money on the shelves for beer in the toilets
The idea for a custom business came to the American Matt Williams in 2008, when he was still in college. Resting at the bar, the young man went into the toilet room and realized that he had nowhere to put the beer. He looked around and realized that other men were trying to place bottles on urinals, cisterns, or holding cups in their mouths. Thus was born the idea of ​​creating small shelves for drinks, keys or wallets in public toilets.
Williams needed $65,000 to launch the project. With that money, he hired engineers who developed a prototype of a small LavCup shelf with an antimicrobial rubber coating. However, the company does not make money by selling the invention. She creates and places flyers in a special slot, and the shelf itself is installed free of charge in toilets at stadiums, bars, cinemas and cruise ships.
In 2017, LavCup's revenue exceeded $2 million (over RUB 120 million).
Sunglasses for dogs
The idea for the production of accessories for animals belongs to the programmer Roni Di Lullo from California. Once, while walking with her border collie, the girl noticed that the dog could not play with the frisbee because of the bright rays of the setting sun. At first, Roni tried to put swimming goggles on the dog, but soon realized that she would have to make a similar accessory herself. She designed glasses and created her own brand Doggles, investing $25,000 to promote the project.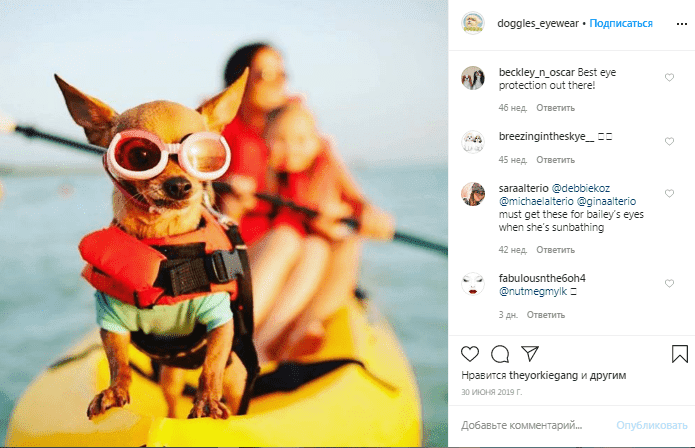 Photo: @doggles_eyewear
At first, Di Lullo treated the business as a hobby – before that she worked at Hewlett-Packard. However, after the release of a report about her invention on CNN, sales began to grow, and the girl quit. To expand production, Roni entered into an agreement with one of the factories in Taiwan.
The invention of an American programmer got into the top of the most useless inventions of mankind. However, veterinarians advise buying Doggles after eye surgery, and in 2004 the military ordered several hundred pairs for dogs working in Iraq.
One copy of the glasses will cost the owner of the dog $ 24.99 (1.8 thousand rubles). Today, the brand also produces other accessories: clothes, backpacks, life jackets and toys. The company's annual turnover in 2015 exceeded $3 million (183.9 million rubles).
Potatoes by mail
One of the strangest companies in the world, Potato Parcel, was created by Alex Craig from Texas. The young man mailed potatoes to his customers with any message or image. He began to promote the project on the famous American site Reddit and soon, to the surprise of all his friends, he began to receive large orders.
"When my girlfriend heard about the idea for Potato Parcel, she said that she had never heard anything stupider in her life and I would not sell a single potato," Alex Craig.
By August, the firm's monthly turnover had reached $10,000 (613,000 rubles). However, Craig lost control and in October sold the business to Riad Behit, who had experience in e-commerce. Already in 2016, the average monthly revenue increased to $25,000 (1.7 million rubles), and the business margin was 70%.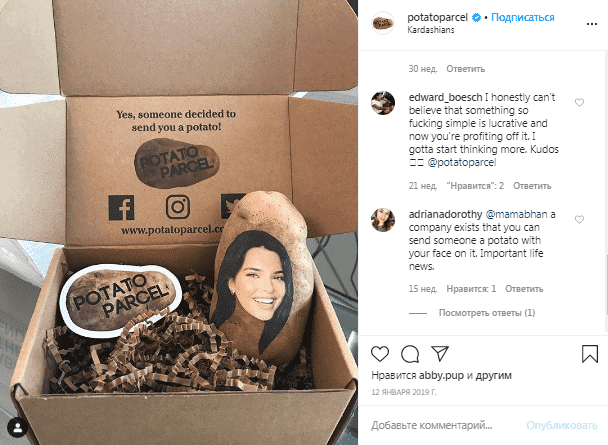 Photo: @potatoparcel
With the concept of "potato mailing", the entrepreneur participated in the Shark Tank TV show, which allows young startups to attract investments. As a result, American businessman Kevin O'Leary became interested in the company, offering Behit $50,000 in exchange for a 10% stake. The millionaire considers this step successful: Potato Parcel is one of his five favorite startups.