Michael Pompeo (Photo: EPA)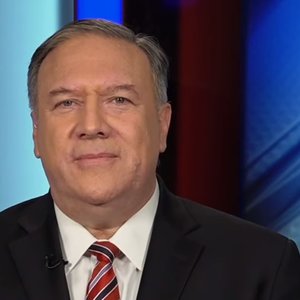 Michael Richard "Mike" Pompeo Michael Richard "Mike" Pompeo is an American politician and businessman. Director of the CIA (2017-2018), Representative of the State of Kansas in the US House of Representatives (2011-2017). US Secretary of State (2018-2021).
Place of Birth. Education. Pompeo was born December 30, 1963 in Orange, California. Son of Dorothy (née Mercer) and Wayne Pompeo. His family is of Italian descent, his paternal grandmother was born in Caramanico Terme, Italy. He attended Los Amigos High School in nearby Fountain Valley, California, graduating in 1982.
He graduated from the US Military Academy at West Point in 1986 and then served in the United States Army from 1986 to 1991 as an Armored Service Cavalry officer, first in West Berlin, then in the Gulf War.
Business. He left the military and went into business, first setting up aircraft parts company Thayer Aerospace, where he served as CEO for over a decade. He later became president of Sentry International, a company that manufactures, distributes and services oilfield equipment.
He received his JD from Harvard University in 1994. During his studies, he was the editor of the Harvard Law Review. Then he worked as a lawyer in Williams and Connolly (Eng. Williams & Connolly).
Political career. Since 2011, he has been a member of the House of Representatives of Congress from the state of Kansas, and is a member of the intelligence committee.
November 18, 2016 accepted the offer of US President Donald Trump to take over as director of the CIA. On January 23, 2017, he was confirmed in office by the US Senate.
On March 13, 2018, he was appointed to the post of US Secretary of State. On April 26, 2018, the US Senate approved Mike Pompeo as Secretary of State, on the same day he was sworn in and officially became US Secretary of State.
Views. Pompeo, a typical representative of the conservative wing of the Republican Party - a member of the Tea Party, who advocates for tax cuts and the role of the federal government, is part of the National Rifle Association, opposed Obama's health care reform.
He opposes the closure of the prison in Guantanamo Bay for persons who are suspected of terrorism. This prison has been criticized by human rights activists for many years. Pompeo has also spoken out against the Iran nuclear deal, saying that Islamic leaders who do not condemn the attacks are also responsible for them.
Michael Pompeo is a clear skeptic about rapprochement with Russia. In April 2014, he visited Ukraine and criticized the Obama administration for its lack of assistance to the country that Putin is trying to take over. "To the extent that we can demonstrate support for the Ukrainian government, we can change Putin's calculations and increase the risk for him and for Russia to move combat forces closer to Kiev," Pompeo said at the time.
Family. Michael Pompeo is married to Susan Pompeo and has one son, Nick.
December 24, 2023