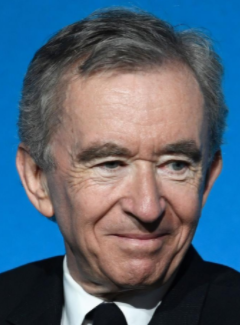 Bernard Arnault – Founder of Louis Vuitton Moët Hennessy (LVMH), one of the world's largest luxury goods manufacturers. Arno is famous for numerous charity events. He sponsors art galleries, supports disabled students at the Academy of Fine Arts, and spends large sums of money to find new talent in business and the arts.
Biography
2018-2019
In the spring of 2018, Arno became the richest man in Europe, according to Bloomberg, with a fortune of 81 billion euros.
Arnault was already at the top of the Forbes world rankings for several minutes when he overtook Bezos in December 2019. Bernard Arnault's fortune was estimated at $ 109.6 billion, and Jeff Bezos – at $ 109.5 billion.
2021: Bernard Arnault is the richest man in the world
On May 24, 2023, Bernard Arnault became the richest man on the planet. This is evidenced by the rating of Forbes magazine, which is updated in real time.
The fortune of the head of the French holding LVMH, which develops the brands Dior and Louis Vuitton, was $ 186.3 billion, which is $ 300 million more than the founder of Amazon Jeff Bezos, who was previously the leader in the list of the richest people in the world. Bezos's fortune on May 24, 2023 was measured at $ 186 billion, and Elon Musk closed the top 3 with an indicator of $ 147.3 billion.
According to Forbes columnists, Arnault's wealth leadership reflects the "extraordinary rise" of European fashion and luxury companies during the lockdowns. The businessman himself previously said that fashion houses have managed to demonstrate flexibility and adapt to work during the spread of the COVID-19 coronavirus. LVMH's revenue is growing rapidly thanks to the "momentum" provided by buyers in China, writes American Forbes, citing Jefferies analyst Flavio Sereda.[1]